One year ago, Major Crimes premiered as a spinoff to the uber-popular The Closer, with fans wondering whether it would maintain the same audience levels and as its predecessor.
With the answer now a strong affirmative, I stopped by the show's set in Los Angeles recently to see what we'll discover on Major Crimes Season 2, which includes 19 episodes, a significant boost from last year's 10 and a clear show of confidence by TNT.
----------------------------------------
Mary McDonnell: The biggest thorn in Captain Sharon Raydor's side this season looks to be her long-absent husband, Jack (played by Tom Berenger), who reappears later this summer. "This marriage is not typical," the Academy Award and Emmy-nominated actress explained with a smile between shooting scenes. "She's been married to him forever. She's been separated for, perhaps, decades…and they won't divorce. What the heck is going on there?"
And, like the relationship itself, McDonnell added the issues between them are just as complicated: "Jack has had quite a past and her biggest problem with Jack is in his relationship or lack thereof, active relationship with the raising of their children and that's probably the core of her biggest issue, because she, her maternal energy is her core."
What will happen when Jack forges a relationship with teenager Rusty under Sharon's nose? Stay tuned! And see what else McDonnell had to say in this exclusive interview with TV Fanatic.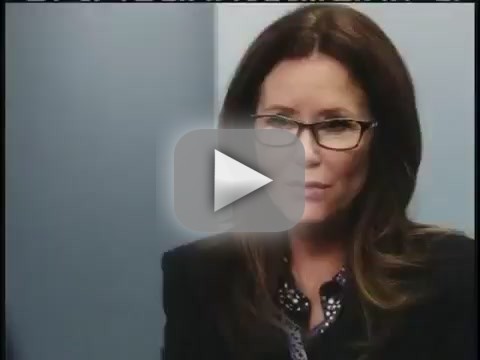 Tony Denison: Has Detective Andy Flynn changed much between The Closer and Major Crimes? "Flynn has more to do in terms of police procedural stuff that wasn't there in The Closer," Denison said of his well-dressed character. "You find out why he's an alcoholic and he's probably a tough guy to live with, which is great to play."

Denison also shared that while he's played Flynn on both series for many years now, his personal detective skills might not be as sharp. He explained when he gets the scripts for Major Crimes, "80% of the time I'm shocked at who the murderer is!"

Nadine Velasquez: She may be best known for comedy on My Name Is Earl but Velasquez plays it straight as Deputy District Attorney Emma Rios. "The exciting part is that I get to be a character I've never played before. I've never been a DDA," she told me. "I usually do comedy or something that has to do with being an attractive woman so this is one of the best roles I've been able to play on television." Watch for Emma's style to clash with Raydor's as well as other members of the team.

While we won't see her in any romantic entanglements initially, she does develop an admirer in Detective Sanchez (Raymond Cruz): "She's actually oblivious to Detective Sanchez's advances," Velasquez said. "He's always staring at her, he'll open the door for her [but] she's not paying attention to that."

Graham Parker Martin: While Rusty brings out the maternal side of Raydor, who has taken the troubled teen in and given him a home, he'll need as much support as possible since he's involved in a case that brings up questions about his sexuality. Martin said he doesn't know exactly where the story is going, but told me that it "adds to the complexity of his life and what he has to go through now because he's trying to be normal and at the same time he was forced to go into this brutal lifestyle."

And while Rusty may butt heads with DDD Rios, we'll see bonds form with many of the other members of the Major Crimes division including Raydor's ex. "He's a guy who comes in and immediately starts bonding with me," Martin said, "and it's kind of an interesting situation for Sharon because she knows that he's not supposed to be around for long yet he's giving [Rusty] this kind of hope that 'Oh, cool male influence.'"

Philip Keane: With Rusty going through a lot, Francis "Buzz" Watson becomes an important figure for him. "He does share a lot of things with me," Keane said, who added what the teen character brings to the show. "It gives us more to play on than just the cases. It's a more personal and familial atmosphere," the actor said.

Keane also said that the cast has warmed up to Raydor a lot more in season two. "I call her 'the stepmother'" he said. "Now she's not the evil queen that everyone thought she was going to be." He also teased that he also hopes that learn more about Buzz's life, including more background on Buzz's father.

Kearran Giovanni: We know Detective Amy Sykes had experience in the military, but will we find out more this season? "You'll get to see a little bit more of her personality," the actress told me. And while she's waiting for more backstory on her character, "I make up my own little things about Amy."

Of the crimes in the Major Crimes scripts, Giovanni (a mother of two) admitted that sometimes the crimes in the show definitely rattle her. "The ones that hit close to home or have anything to do with children obviously make me shiver." She teased that the sixth episode of this season has one of those cases so be ready for chills!

Major Crimes premieres tonight at 9/8c on TNT. Visit TV Fanatic immediately afterward for a detailed recap and review.



Jim Halterman is the West Coast Editor of TV Fanatic and the owner of JimHalterman.com. Follow him on Twitter.

Tags: Exclusives, Set Visits, Major Crimes, Spoilers