Some of the best TV has to offer is now coming to Blu-ray and DVD.
So without wasting any time, check out the selection below that you should seriously consider adding to your home video collection this month.
-------------------------------------------
Breaking Bad Season 5: Before the final crop of episodes begin airing in August on AMC, relive the past 8, which lead into the end for Walt and the gang, as things get more and more dangerous and complicated. With great extras like cast and crew commentaries for every episode and a "Writers' Room Timelapse" (which shows how an episode comes together), you'll eat up not just every episode but the fabulous extras, too.
And if you haven't entered the Breaking Bad Season 5 giveaway, go enter before the deadline this Friday.
Rizzoli & Isles Season 3: The unbeatable team of Jane Rizzoli (Angie Harmon) and Maura Isles (Sasha Alexander) are back in the third season of the popular TNT procedural. Sure, Jane may have shot Maura's gangster father at the end of Season 2... but these two will keep on working together personally and professionally. The balance of humor and cases in every episode is part of the selling point here, but it's truly Harmon and Alexander who'll keep you coming back for more and the third season's 15 episodes showcases that over and over.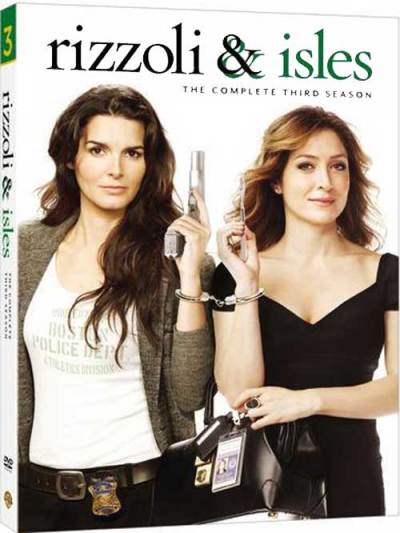 Major Crimes Season 1: Anyone who was concerned The Closer spinoff wouldn't hold its own should breath a sigh of relief by now. The Major Crimes division, led by Mary McDonnell's Captain Sharon Raydor, is stronger than ever and the first season is now available on DVD.

The word seamless comes to mind when seeing how The Closer transformed into this new series. But with most of the same producers behind Major Crimes, the creative team clearly knew what it was doing. And the cases seem fresh with the new approach; and, thankfully, Raydor is not quite as abrasive as she was when first introduced on The Closer. The team comes together throughout the first season and feels just like that: a team. And one we want to spend more time with. (The second season is currently airing Monday nights on TNT).

The Newsroom Season 1: Critics may have been split on the Aaron Sorkin creation, but the series – about a newsroom led by Jeff Daniels – grabbed an audience and the first season is available now. With special guest star Jane Fonda and a supporting cast including Emily Mortimer, Sam Waterston, Allison Pill, John Gallagher Jr, Thomas Sadoski, Dev Patel and Olivia Munn, get caught up on the first season before new episodes start to air July 14.

While the show focusing on various time over the past few years may throw some, Sorkin has an eye not just for examining important events of our contemporary era but also plugging in the usual crackling character relationships that have made his past series (like The West Wing) into classics.

Killing Lincoln: While Steven Spielberg brought the story of Lincoln to the big screen last year, Nat Geo had no problem getting audiences to show up for its own Lincoln-centric film starring Billy Campbell as Abraham Lincoln.

Based on the bestselling book by newsman Bill O'Reilly and Martin Dugard and narrated by Oscar winner Tom Hanks, Killing Lincoln takes us into the mind of Lincoln killer John Wilkes Booth for a unique look into the bit of history we all know so well. Extras include commentary by Erik Jendreson, who Exec Produced and wrote the screenplay, as well an interview with O'Reilly and featurettes on the making of the docu-film and Lincoln's time in Virginia. A must-have for any history buff.

Jim Halterman is the West Coast Editor of TV Fanatic and the owner of JimHalterman.com. Follow him on Twitter.

Tags: DVD News