Orphan Black! Orphan Black! Orphan Black!
So chanted fans of this BBC smash yesterday prior to the show's panel discussion at Comic-Con, which featured stars Tatiana Maslany, Dylan Bruce and Jordan Gavaris and creators John Fawcett and Graeme Manson.
And along with talking about how Maslany gets into the mood for each of her characters (by listening to playlists, the actress said, such as show tunes for Allison, electro for Cosima), the group confirmed that Orphan Black Season 2 will return in April.
As you might expect, it will also feature more Sarah Manning lookalikes.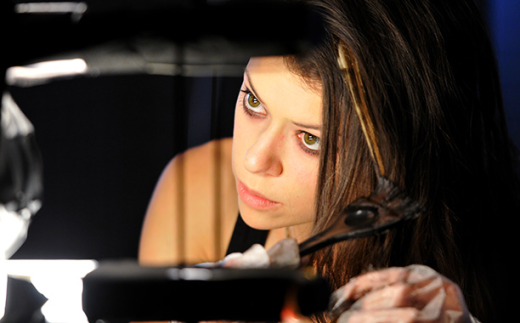 "We are making this wacky little clone shows and we do like our clones," Fawcett said. "I don't think anyone would be surprised if we unveiled a few more clones in season 2."

Not many specific storylines were addressed at the Q&A, but Manson did at least touch on Cosima's apparent illness.

"She now has to look at her own science, and I think that's going to be really interesting," he said. "When she looks at her own science, she looks at the health of all her sisters too... the truth is, it's still up in the air. We don't know what's going to happen to Cosima."

Might we learn more about Beth or Katja, both of whom met their demise rather soon after viewers met them?

"The show has a pace that charges forward," Manson said. "We couldn't really find a way to flashback in season two and keep the pace up and keep this relentless following of Sarah's journey. We're gonna try to do it somehow, we're going to try and get back there. We'd love to do that pre story. It could be in Season 3 or Season 5."

Added Fawcett: "There has been discussion of the Beth episode, but I don't think you're going to see it in Season 2."

Matt Richenthal is the Editor in Chief of TV Fanatic. Follow him on Twitter and on Google+.

Tags: Comic-Con, Spoilers, Orphan Black