Top Chef Masters Preview: Gail Simmons on Airplane Jumping, Fast Food and More!
by Jim Halterman at . Comments
A new season of Top Chef Masters gets underway on Bravo tonight.
And while certain aspects of the series will remain the same (Curtis Stone returns as host, for example), there will be at least one significant change: Gail Simmons will take on the role of as head critic.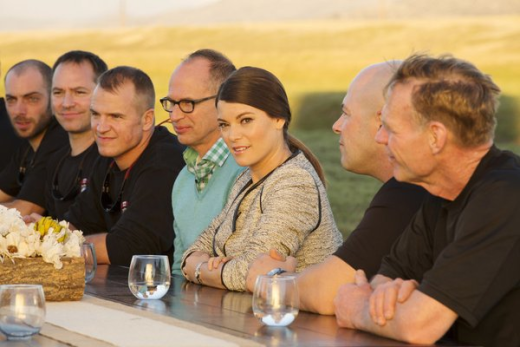 And contestants will be jumping for joy at the outset of season 5... literally!

I asked Simmons about the opening challenge of having contestant leap out of airplanes and whether this was meant to signify the many obstacles ahead.

"It's an indication of the breadth of challenges we're going to have. I didn't think jumping out of the plane was an obstacle in the cooking part but it had this amazing effect on our chefs. We almost couldn't have anticipated what we hoped for. That's how we started the season before we even started cooking. Some of [the chefs] are quite late in their careers. They are not spring chickens. To sort of take this massive risk, trust us and totally go out of their comfort zone, which is exactly what we want on the show with their cooking, too.

"It also had this amazing effect of bonding them. When they all landed them on the ground [after the plane jump] they were instantly connected to each other and shared this incredible adrenaline rush and experience that'll never happen again. I think it brought them all together in a way, it united them but also sort of blew open their minds. I mean it just was an amazing way to get them excited and pumped for the season, which was really awesome to see."

For a lot more from the host, including whether she eats fast food and what the presence of a couple Top Chef veterans will mean on Masters, visit Food Fanatic for my full Gail Simmons interview.

Jim Halterman is the West Coast Editor of TV Fanatic and the owner of JimHalterman.com. Follow him on Twitter.

Tags: Exclusives, Interviews