Avan Jogia Talks Twisted: On Manipulation, Love Triangling and More!
by Leigh Raines at .
Only one episode remains on Twisted Season 1 - and in anticipation of Tuesday's finale, we caught up with the show's main star himself, Avan Jogia.
What can we expect from Jo and Lacey? Danny's manipulation? And the other developments hanging over the heads of various characters?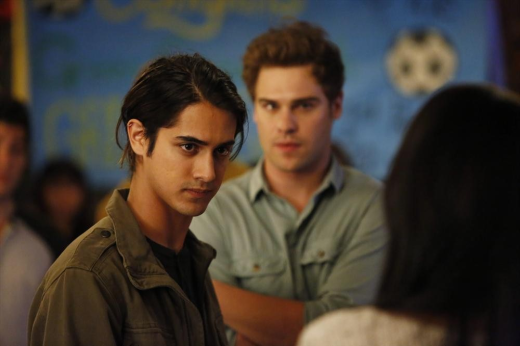 Lots of young viewers, including my nieces and nephews, know Jogia as Beck from Victorious, a series that was an upbeat comedy on Nickelodeon... and Twisted is definitely the opposite. It involves murder, manipulation and the portrayal for Jogia of someone who could be a sociopath.

That's quite the adjustment.

"Danny's a great manipulator," the star said. "There's always a reason he's playing a certain side."

Avan has been able to bring a lot of empathy to the role of a teenager who spent five years in jail for murdering his aunt. His motive behind the killing? Just one of the many mysteries of the show. Another huge aspect of the drama has been Danny's triangle with his two childhood best friends, Jo (Madelaine Hasson) and Lacey (Kylie Bunbury). 

Now that the trio is older, romantic entanglements have entered the picture. At the moment Danny only has eyes for Lacey, but insists on protecting Jo as a little sister. Might there be more to the Danny/Jo relationship? Jogia confirmed that there was "more scope" and it was definitely part of a bigger plot of wanting to protect Jo. We should keep an eye on his aunt's past murder. He is indeed protecting Jo from a certain truth.

As far as Jogia's own opinion of the heated love triangle, he doesn't understand how people can make it such a fight: "I find it interesting that it's such a heated debate. Danny's main goal is always to bring the three of them together."

In summary, this is a show much like Pretty Little Liars where you need to keep an eye on everyone. No one is completely innocent. 

"The show presents suspicion to everyone's character. Things that are devious are often hiding in plain sight."

Tune in to the Twisted finale next Tuesday on ABC Family at 9 p.m.

Leigh Raines is a TV Fanatic Staff Writer. Follow her on Twitter.

Tags: Exclusives, Interviews, Twisted
From Around the Web