Emmy Watch: Cat Deeley on Third Nomination, So You Think You Can Dance Rituals and More!
by Jim Halterman at . Comments
It's time.
Yes, it's Emmy time. But it's also time for the Outstanding Host of a Reality or Reality-Competition Program to finally go to the host that, in my opinion, is long overdue to take the statuette home. That host is Cat Deeley, who has been bringing her charm, quick thinking and infectious enthusiasm to her So You Think You Can Dance for nine seasons now.
The British-born Deeley has been nominated the past three years (with Survivor's Jeff Probst winning in 2011 and Dancing With The Stars' Tom Bergeron taking it home last year) and when she spoke to me in her dressing room after a recent taping, we made sure to talk about what it means for her to be nominated.
We also discussed how she'd like to win only to channel a popular TV icon at the Emmy parties, how the Downton Abbey gals came in handy at last year's event and how she has another hosting gig in the works on the TLC pilot, My Dream Wedding.
-------------------------------------------
TV Fanatic: Let's talk the Emmy nomination first. You've been through this a couple times now. Has your opinion changed about the Emmys? Are you still hopeful? I always feel as though you should win.
Cat Deeley: I find it very exciting. It was always something that I never, ever imagined. Never even wildest dreams imagined. It's lovely and it's so novel to go and find a frock and some diamonds. What I tend to do is I tend to treat it more not as 'this is a possible award.' It's more like this is a celebration. One way or the other, it's a celebration.
I think the biggest thing of all is it's just about celebrating. Not how an Emmy or nomination for an Emmy would change my life because actually, it wouldn't, but the show totally has. It's ten seasons. That's life changing. It's changed my standard of living. It's changed the country I live in. It's changed my circle of friends. I've travelled all across America. I've gotten to experience American culture which I love. I love the positivity of America. I think nobody beats the Americans in terms of their enthusiasm and celebrating people's talents. They never knock you down. They build you up and build you up.
Although an Emmy would be very cool for the parties. All I want it for is to just walk around and just be a bit like Fonzie. You know when everybody turns up for the parties and they're like 'Are you on the list?' and you just go "Ayyyyy."
TVF: That's amazing. Where were you when you found out you were nominated?
CD: I was in bed, obviously. It was 5 o'clock in the morning. My manager and publicist had said 'shall we call you?' and I was like 'you know what? Don't' because I wasn't sure if I would be nominated and then my husband phoned me and went 'okay, it's fine. I'm calling you. You've been nominated.' He called me so it was much better…it's so nice to have been nominated before. I don't know. I think I would be slightly disappointed if I suddenly stopped being nominated.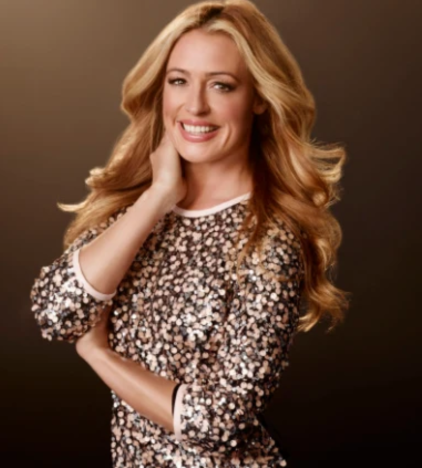 TVF: Getting back to So You Think You Can Dance. Do you have any pre-show rituals?
CD: Yes I do. I always have a glass of champagne before I go on. It's about really enjoying getting ready and having a really nice experience with everybody and then just before I go on, I have a glass of champagne. Happiness in every bubble.

TVF: You've said how you don't dance but do you have a favorite dance style?
CD: You know what? I do. I do love the hip hop. I've got to say. It's just because it's like that's the coolest of the cool…I love what [choreographers] Christopher Scott does and Tabitha and Napoleon. My favorite thing is where they take a piece of music that you wouldn't necessarily think was hip hop and put it into something else.

TVF: What do you think makes a good guest judge because even this season there have been some really amazing ones and some that I think maybe didn't do quite as well? Like Anna Kendrick? She was phenomenal.
CD: She was an uber fan/So You Think You Can Dance geek. During rehearsal, she would be there and she sat there in no makeup. I go into rehearsals in no makeup, too, and then we suddenly got all these people coming into rehearsals that are like 'oh my God, don't look at me. Don't look at me.'

I kept chanting to her and she'd be like 'Cat, you're putting me off. I'm making notes. I'm making notes, Cat. Stop it.' [Deeley laughs] She's so much fun. Anybody who is enthusiastic [and] really wants to do the show and isn't just being pushed in by their publicist or somebody else that thinks it's a good thing to do and a bit of a fan. And preferably a sense of humor.

TVF: You're doing My Best Funeral at TLC, right?
CD: My Dream Wedding. It's going out sometime I think in the autumn time. The premise is the girl thinks that she's on a wedding show on TLC called My Frugal & Fabulous Wedding. In actual fact, what happens is me and the bridegroom and the matron of honor and her family basically plan her dream wedding and on the day, I turn up like fairy godmother and give her everything she wants.

TVF: When you dress for So You Think You Can Dance you've told me how it's often not planned out too early, right?
CD: I think my dress from last week was still being hemmed with seven minutes to go. I mean that's how not planned it is.

TVF: Will you be a little more planned out for Emmy night?
CD: I think so because it's got to be a bigger get. It's more of a fandango obviously. Last year I did like a fishtail, very structured style number and I couldn't go to the bathroom in it. Not on my own anyway! So I went to the bathroom and the girls from Downton Abbey had to unzip me. I went to the bathroom and then they had to re-zip me on the way out. Unless I can formulate the bathroom breaks to fit with the Downton Abbey breaks, I'm in trouble. I've learned my lesson.

The 65th annual Primetime Emmy Awards airs September 22 on CBS. So You Think You Can Dance airs Tuesdays at 8 p.m. on Fox. Follow Cat Deeley on Twitter @CatDeeley.



Jim Halterman is the West Coast Editor of TV Fanatic and the owner of JimHalterman.com. Follow him on Twitter.

Tags: Emmy Awards, Exclusives, So You Think You Can Dance