In my interview with Travis Milne this week, he mentioned that Chris Diaz would be headed down a darker path this season. Now we know what led him there.
"What I Lost" sent Chris' life spiraling out of a control. Unfortunately, he's been going toward this destination for a while now.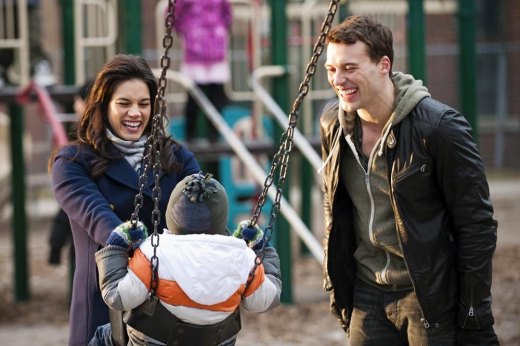 When Denise first showed up with Christian I was surprised the Chris never got a DNA test. The tests are so prevalent these days that it felt like the least he could do to protect himself. But Chris is such a good guy that he couldn't imagine that his long time girlfriend would lie to him about something so important.  
Boy, was he wrong. 
Chris left a job he loved, moved out of the city and said goodbye to his friends behind to live with a woman he didn't love in order to be a father to his child... only to find out that Christian wasn't his. The worst part was that Denise has known all along. The entire scenario was heartbreaking for everyone involved and Chris will never be the same.
The intensity of the kidnapping brought things into focus for everyone at 15 Division. 
Despite Sam's seemingly happy demeanor with Marlo, he was deeply jealous of Andy's budding relationship with Nick. The way he questioned why the two of them were together at the park was beyond the scope of the investigation. 
And although I've always rooted for Sam and Andy, I must admit that Andy and Nick were downright adorable as they fumbled through her living room trying to tear one another's clothes off. 
McSwarek fans may want to hunt me down and hurt me, but I see the potential of a long-term relationship between these two. They have similar, easy going personalities and they are open and honest with one another. It really could work between them.
That is, until you throw in Nick's recent ex being one of Andy's best friends. Andy really should have spoken to Gail before she started undressing her ex. The lies will cause Andy to get swallowed up in guilt.
Nick and Andy's other big obstacle is that she's still head over heels in love with Sam Swarek. But has too much happened between the two of them? Even if Sam and Marlo blow up over her obsession with the possible child abductor, if Sam came to his senses and tried to win Andy back, do they still have a fighting chance?
I worry for Nick. I think his feelings for Andy are real and, although I could be wrong and Andy could choose him, I fear Nick will be crushed in the end. 
But there was more to this episode than paternity and a love quadrangle.  Everything about Gail's blind date with the pretentious faux-Brit made me love her all the more. Nothing's better than hearing Gail Peck say exactly what crosses her mind as in this Rookie Blue quote…
Let me just be clear here. This date's not going very well for you but I'm going to stay and enjoy this festive latte and then I'm going to go home. Alone. Because there's not enough alcohol in the world to get me in bed with you. | permalink
In comparison, Gail's outing with Holly was filled with fun. I couldn't stop laughing when she squealed and ran away from the batting cage. Who knew Gail had a secret girly side?

And it was great to see Gail try and encourage Traci to give her brother a chance. I'm still not sure how I feel about Traci and Steve together but it would be great to see Traci have a little fun of her own. 

Once again the most solid couple of the night was Chloe and Dov. They were cute, affectionate and most importantly honest. They seem to make good partners both personally and professionally. 

Ironically, for all of the reasons why I love Gail, I have grown to love Chloe for being her exact opposite. 

So, do you think Chris will be making the move back to 15? Will Gail implode when she finds out about Nick and Andy? And does the newest Rookie Blue couple have a fighting chance at a future?

C. Orlando is a TV Fanatic Staff Writer. Follow her on Twitter.

Tags: Rookie Blue, Reviews