AMC offered viewers their first look at The Walking Dead Season 4 this week.
But TV Fanatic is here with an exclusive interview to get you even more excited.
Steven Yeun, who stars on the zombie drama as Glenn Rhee, sat with me on one of his days off recently and opened about the change in showrunners (Scott Gimple taking over for Glen Mazzara); what's surprised him about the heights he hit last season as Glenn; and some of his favorite moments from the first three seasons of cable's most popular series...
-------------------------------------------
TV Fanatic: Without spoiling anything, how are you feeling about shooting the new season so far? You've got a new showrunner…
Steven Yeun: We've had some turmoil backstage a couple of seasons in a row, but the hands that we're in right now are so good. Scott Gimple is so good. The way that he thinks…he's already in season 8 right now in his head. It's pretty cool to know that we're in those sets of hands. I think people are really going to dig it and feel a different vibe, not in terms of the show but really digging into characters more. There's room for more and there's room for action and there's room for character development.
TVF: Now that you're deep into Season 4, what are your impressions of the work you did in Season 3?
SY: I'm very lucky that I get to do this show on location and we get to do it in a place where nobody can really get to and we're surrounded by the people we're surrounded by. I don't know that I could pull off the stuff we were asked to do if we didn't have that camp mentality, sort of like boot camp, isolated with each other.
I learned a lot of valuable lessons as I do every year. I learned the value of saving things for later. That comes with whoever is writing [and] to be on the same page as the actors so that can really manage the turns of this character. It's just been fun. I've had a lot of help and I've had a lot of people helping me out. A lot of great coaching and a lot of great acting partners. I guess this season I just hope to get better and we'll see what happens.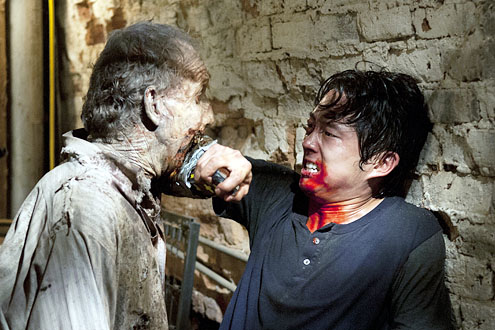 TVF: We've talked before about how you started in the comedy world. Have you surprised yourself with the work you're doing?
SY: Yes, definitely! I'm rarely proud of myself. When I mean rarely, I mean almost never. That's not to say that I'm not proud of myself but I saw that there was so much to learn and I was up to the mental challenge of learning and I think that's where my greatest pride lies. I don't know [Yeun laughs] maybe my parents raised a sad sack who was always down on himself.
I'm always ready to take some advice and willing and open to make addresses here and there. I also know my strengths, too. That's the coolest part, right? Doing comedy makes you not have to think so much about this long term structure but then, also, it could be just from the experience. If you watch someone like Steve Carell do The Office, he played that character forever and the way that he starts off to the way he finishes is just brilliant, just as Ricky Gervais did…I think comedy gets a bad rap in that it does not have that thickness, that palpable character development and that's a valuable lesson that I've learned is you can stick that in is what makes it funnier. It's been cool.
TVF: Who of your co-stars do you go to if you needed help working through a scene?
SY: A little of everyone. I've asked everyone. The first season was Andy [Lincoln], Jon [Bernthal] and Jeff DeMunn (Dale). Jeff DeMunn was my go-to. He is the man! And then the next season it was Andy, Jon, Jeff, Melissa [McBride]…they were really great. Moreso than just going up to them and asking what I should do, it's a lot of just watching them and seeing how they go about it, ya know?
TVF: You're shooting Season 4 and you said that the new guy is thinking way ahead. How do you feel knowing that you could be in Glenn's shoes for awhile?
SY: For me, I guess I'd love to tell this story until its necessary place. I love this character. This character is such an embodiment of the every man and to be able to play this as an Asian American, as well, is fantastic. I love playing this character and I hope I stick it out for a little bit but at the same time I just want to tell a good story.
TVF: I have to say I have such respect for the show killing off people like last season with Laurie.
SY: She was a pinnacle of our show!
TVF: You think this group or person is okay but then they go.
SY: Anyone is up for grabs. For a person who loves having a job, that's a sad reality but then again you get to be a part of a really great thing that tells the right story. It's a great opportunity.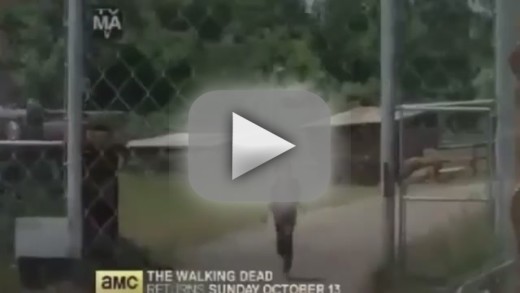 TVF: How is it to be a part of something where you have to keep things close to the vest?
SY: I'm okay with it. I like keeping secrets. And I really love the idea of preserving that experience for another person. I won't even tell my parents. Why would I rob that feeling from them? I love getting those phone calls and them saying 'What the hell was that?' That's a great, great feeling. Also, for me, my curiosity is only to the extent that I'm curious. If I don't get the information, then I don't care.

TVF: You've had a lot of big moments but do you have anything specific that still stands out to you?
SY: Yeah, I think there are a lot of moments like that. The well was really fun…and the chair, obviously, will always be a turning point for the character but I would say the quintessential scene that was an eye opener, welcome to the show, welcome to Hollywood and welcome to a different existence in the way was the second episode of the first season where we slop ourselves with guts and we walk down the street.

It was so gnarly shooting it because the scale of what we were doing was so incredible. We had over 200 extras, all in zombie makeup, we're covered in guts, we had rain machines, camera cranes, we had a car with a camera mounted to it. I had just come from theater to that! I was like 'What is going on?'

TVF: How was that experience in the first season since nobody had seen it yet? Obviously it's not the case now since you know people are responding…
SY: I think there's a little semblance of 'we better step our game up every single year.' So there's a little pressure but I like that. It makes us go harder. I think with people counting on this show to be what we try to deliver every year and exceed that, I find myself even more disciplined, as well.

I wouldn't say I was not disciplined before but I definitely had the actor's streak of procrastination, right? I read something that procrastination isn't necessarily someone being lazy but, rather, it's a fear-based thing of someone putting something out there that might get shot down. I am the master of procrastination but with this we don't have time for that.

TVF: How has the show opened other doors for you?
SY: What's been fun about that is I have the luxury of having a job that takes up most of my time and pays me to live so if that's the case, I can only thank God for that. But you have these other little snippets of time to fill and I love just jumping in, doing a bit and then leave.

Hopefully those will accrue over time and people will see but I still improv just for fun. So, you know, I love that community, as well. That community is tight knit and really helps each other out and it's about supporting each other. We shall see what happens but I'll be honest with you, I've found a huge love for drama, as well. The ability to tell that type of story is fantastic.

The Walking Dead Season 4 kicks off October 13 on AMC.

Jim Halterman is the West Coast Editor of TV Fanatic and the owner of JimHalterman.com. Follow him on Twitter.

Tags: Exclusives, The Walking Dead, Interviews, Steven Yeun