Boardwalk Empire Review: Cleaning House
by Chris O'Hara at . Updated at .
Fans were treated to one of - if not the - most intense fight scenes in the show's history this week on  Boardwalk Empire Season 4 Episode 8.
I have to admit, I thought there was a good chance we were going to lose Chalky during that struggle with Dunn P. Thankfully, Daughter came to his rescue, but damn girl, what took you so long?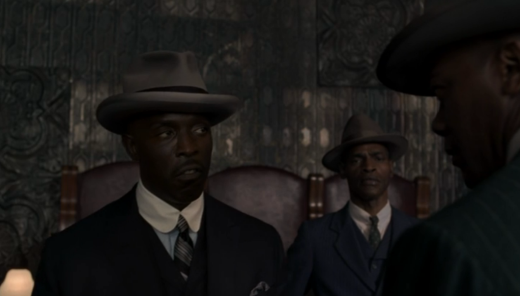 Mayor Bator reminded us that election season is coming around, as well as the weight the North Side vote carries. Such was the impetus for Nucky showing up at the club to speak with Chalky's. I think he wanted to check in with Chalky more for peace of mind rather than because he had doubts about Chalky's leadership. 

Chalky had his broom out from the jump off this week, however, looking to clean house even before Nucky approached him to talk. First, he showed up at Dunn's barber shop looking for some answers about the Deacon. As he left, he called after Dunn to follow like a parent would a child. After reminding Dunn of his place, Chalky then traveled to the heroin house to remind the folks there who ran that side of town.  

Chalky's best moment, of course, came as he banged the garbage can lid in the street to bring Narcisse out from his play's underwhelming debut. What a great scene that was as they stared at each other through the flames of the burning heroin. 

Chalky noted how quick Dunn was to shoot and kill Moses, the man Chalky was hoping to get some answers from. Then, when Dunn showed up at Daughter's room, Chalky commented on how everything came together a tad too conveniently with regard to the information about Narcisse and his whereabouts. 

Chalky knew what was going down from the moment Dunn knocked on Daughter's door. I loved how the camera shot reflected this as we saw Dunn and Chalky at opposite corners of the room, neither overly eager to get any closer to the other. The more Dunn talked, the more transparent his lies became, and the two slowly made their way to the middle of the room where they ultimately struggled.

Eli and Nucky managed to make it through a week without too much drama, but what is Eli going to do concerning Knox's offer/ultimatum? 

It seems to me, if Knox has Mr. Means in his pocket, he wouldn't even need to offer Eli amnesty. For the moment Knox seems to think he needs Eli so a decision remains to be made. How would Willie feel if he knew he potentially could be the reason his uncle goes down?

When Nucky warned Chalky about his knife getting out of hand, he seemed to glance down at Daughter on stage. Nucky should heed his own advice, though. He is going to need as many friends as possible in coming months, losing his temper over Sally and striking Mickey in public like he did was not a very smart move on his part. 

Next week we will hopefully catch up with Richard, the Capone's and Van Alden, but I really enjoyed this week's refocus on Atlantic City and the men who run it. How about you?

Tags: Boardwalk Empire, Reviews
From Around the Web