24 Scoop: Kiefer Sutherland and Howard Gordon Tease the Return of "Angry" Jack Bauer
by Jim Halterman at . Updated at . Comments
Jack Bauer is back.
And Kiefer Sutherland is so excited he's jumping up and down... literally.
You could feel the positive energy coming from the roomful of critics who were thrilled to talk about the upcoming 12-episode series, 24: Live Another Day, at the Television Critics Association Winter Press Tour yesterday, as it gave Sutherland and producers Howard Gordon and Evan Katz a chance to breath a big sigh of relief.
Gordon (pictured below with Sutherland during the panel) admitted he, his fellow producers and the cast were all nervous going into the panel and what the response might be from the critics. 
As for why they decided to move forward with the reboot? "We all just missed Jack," Gordon said.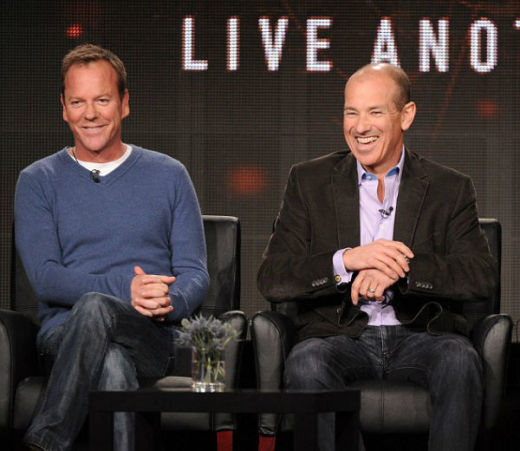 But did Sutherland, the man who played Jack Bauer for 8 heart-pulsing seasons, feel the same way?

"I always have," he said earnestly, adding that we're going to see a different Jack than we're used to at the start of this new chapter. "Everybody keeps asking what's going to be different about the show is and my very stock answer is nothing. He's going to have a shitty day," the actor said.

"It's the elements that are changing around it and, very importantly for me, Jack Bauer started every season with a little hope and that hope has been dashed as the season goes on. We've inverted it this year."

Bauer will not only be angry but his once-solid alliances with characters such as Mary-Lynn Rajskub's Chloe will be fractured.

"He's been isolated from his country, from his family, for four years. He's been forced to hide underground for something he didn't think he did wrong and yet he knows if he tries to speak his mind about it he'll be killed the second he sticks his head above ground," Sutherland teased, adding:

"So he's coming in as an angrier Jack and a distrusting Jack even with characters like Chloe than we've ever seen him before and it's up to those characters that actually matter to him to pull him back down to the kind of Jack that you  might understand or know. That's an interesting place to start from. There are differences and not."

As previously reported, other featured stars will include Kim Raver, who played Jack's love, Audrey and Yvonne Strahovski, who will come on board as a CIA agent going after Bauer.

Also, with four years having passed, will we get any flashbacks to see what's happened in that time? Sutherland said there were definitely talks about that.

"There's an opening that [Gordon] and I have discussed at length for awhile that would take you out of a present moment but I think he's right in not doing it."

Gordon added: "Joel [Surnow] and Bob [Cochran] created this brilliant idea of real time. Aristotle said all great drama should be in real time and Joel and Bob figured out a way and a story and a character to put in the center of that so we have to be careful when we're messing with that form."

In other words, we'll hear about those last four years but no flashbacks in 24.

Another big factor in returning to the role that made him a bigger star than he already had been from his years of making movies? The fans.

"Hearing all the love today and the excitement and enthusiasm, and hearing what it did on Twitter and all that stuff which, trust me I do not have my fingertips on the pulse of social media, so when I'm informed about that all it makes me go is 'This better be the best 24 season ever,'" Sutherland said.

"The fans have that supported us and have been this loyal over this long a period of time, that's what they deserve, that's all they deserve…and we're also starting so it's all the anxiety of that but I know why boxers do this when they're ready to fight because they're just too excited to stand still." [And, yes, he did actually start jumping back and forth as a boxer would to prove his point]

How did the conversation even come up about the drama returning?

"Our show ended in the same way it started," Sutherland shared. "It was a five-minute discussion and Howard said 'Look, I know how to kill this eighth season but, I have to tell you, I don't know how to start a ninth.' And I said 'Then we're done.'"

Jump ahead four years when Sutherland called Howard to congratulate him on winning the Emmy for Homeland and Gordon said he had a 12-episode arc that he thought would work. Sutherland signed on immediately.

Sutherland admitted he is nervous about this new chapter, which will be set in London, but that feeling seems to be a good thing.

"I wouldn't be nervous if I didn't believe that we had the potential and the opportunity to make the best season of 24," he said. "It's just odd talking about the day before I go to travel and am ready to go do it. It's all I've been thinking about. That's where I'm at."

Gordon made it clear that he and his partners feel the same way about Jack Bauer and 24 as the rest of us.

"We love this show so much," he said, "and it worked for us and we were very proud of it and we want to honor it and we want it to be a natural and organic continuation of that story. It's really the story of Jack Bauer, it's his story in life...it needed the four years to marinate and come up again from the ashes to feel centered."

24: Live Another Day premieres May 5, 2014 on Fox.

Jim Halterman is the West Coast Editor of TV Fanatic and the owner of JimHalterman.com. Follow him on Twitter.

Tags: 24, Kiefer Sutherland, Interviews, Exclusives, Spoilers