It's been a hell of a week on The Young and the Restless.
Is anybody out there? There's no way to get around the fact that Michael Muhney (Adam) and Billy Miller (Billy) are gone.
First of all, their characters' tragic car accident was the major topic of the week and only one made it out alive. Damn if Billy didn't transform back in time to his old face -- the one he had in 2002!
I'm not going lie -- I preferred Billy Miller's Billy to David Tom's. But, since all Tom has had to do thus far is lie in bed and act somewhat guilty, I'll give him time to get back into the part before passing judgment.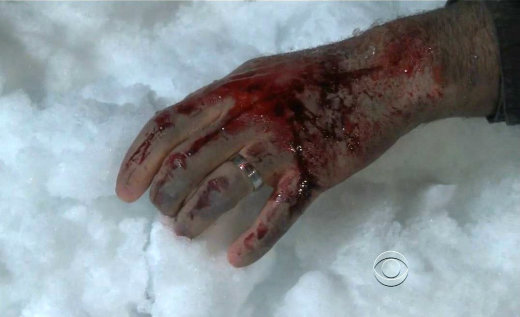 Let's be honest, Billy's going to have a heck of a time if that finger does more than wiggle. Car accident, gun shots, car in flames and yet that hand looks burn free. If Adam's out in the snow, how the heck has everyone missed him? 

Kelly popped her head in to say hello on Friday and blissfully unaware Victoria practically pushed her into Billy's room. Who else got the feeling that Kelly killed Delia? Her darting eyes, sighs of relief at hearing Billy's description of the accident and words of encouragement about getting over Delia's death now that the killer is gone were telling. It's even better because he slept with the enemy. That will compound his guilt and send him into a downward spiral. 

After Nikki talked with Victor he reached out to Chelsea, but only after Sharon had already done so. I like Chelsea and Sharon being friendly. They did love Adam and their understanding of him gives them something in common. Victor's offer of a house for Chelsea and Connor seemed to come from guilt more than anything else. Throw money at it Victor, that will help.

Earlier in the week Sharon met with Summer when Summer was thinking of making some changes in her life and Sharon's visions of Cassie increased. Now she can touch her. I hope this is a "Denny" on Grey's situation because it's freaking me out. Then again, Denny at least spoke to Izzie. Cassie's silent glare would scare me to death.

Summer and Ian keep crossing paths, and he's going to prey on her. You can see it coming. Cult leaders are nothing if not charismatic. If he was able to get to Nikki years ago, Summer is a goner. 

Jill also came back to town this week -- with Colin in tow. Nobody was happy to see this match made in hell, most of all Cane. He doesn't trust his father one little bit, nor should he. While they told their tale of love and happiness, viewers got to see how Colin handcuffed Jill and forced her to marry him so he could stay in the country.

It's time to dig into the mystery of Katherine's music box. Somehow, Colin got the secret of its importance from Katherine, or at least it's worth. Whether he's referencing it's worth to her or it's monetary worth, we'll just have to wait and see. Jill and Colin going on an adventure, even if it's just in the house would make his stay more fun.

Finally, it looks like Neil and Leslie aren't getting married. Not because they're not in love, but because Leslie doesn't believe in marriage. Something tells me this won't last long. Neil does believe in marriage and he was pretty hurt by the whole thing. It seemed like he was even willing to buy into the clowns if it meant getting her down the aisle. Poor Neil.

Are you willing to accept Adam's alive if he's not in Michael Muhney's body?

Carissa Pavlica is the managing editor and staff writer for TV Fanatic. Follow her on Twitter and on Google+.

Tags: The Young and the Restless, Soap Operas