How many more wrists are we going to be subjected to on The Young and the Restless before we get a body to go with it?
First, it was Adam's wrist in the snow bank and then near a tucked in blanket (we all know Adam's alive, right?) - and this week we got another look at Mariah. She is a character who has never been more than a wrist and memories of Tyler's.
Mariah's wrist has a tattoo similar to Lily's and it's in the same spot. It's not Lily's wrist, however, as Lily has an accompanying tattoo on the side of her wrist that's missing in the photo below.
Many have speculated that perhaps Christal Khalil might be up for playing dual roles, but if that's the case, they did a disservice by showing this particular set of hands in advance.
Another theory is that Lily is a dual personality given her somewhat odd behavior as of late. She's just odd. Didn't Tyler go meet Mariah during the gala? While he's definitely made note of how eerily similar his ex looked in comparison to Lily, I think he would have noticed if they were one in the same. Or not. This is a soap opera!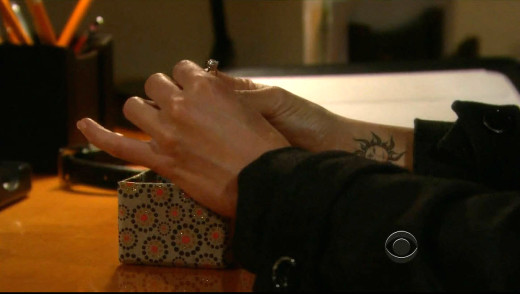 Just as soon as Tyler and Abby weren't completely annoying, it seems Mariah's going to start stalking someone. Why else would she be putting on the ring Tyler gave her? Genoa City is so bizarre -- who cares if Tyler and Abby are house hunting together? Isn't there real news in town?

They could talk about Adam's body never being found and and his ex-wife receiving phone calls from the dead. This time she received a dead-air call with Billy at her side. He's either going to think she's off her rocker or that call will end up having a voice on the other end. Nobody ever sees or hears the scammers.

Somehow there are people in the park all the time except when fauxCassie is having one of her many rendezvous with Victor or Sharon in broad daylight. It's ludicrous that nobody has run into her yet. Even someone only remotely related to the action seeing her would be something to make it more realistic.

At one point it seemed like it might be fun to have fauxCassie be related to Cassie or a missing twin, but if she can let Sharon undergo electro shock therapy without intervening she's scum. Does anyone else want her to stick around after letting that happen? It feels really dirty.

Speaking of dirty, Ian Ward's ex wife showed up in town with a piece of information to get some extra cash. What are the odds she's ready to spill that Ian is infertile? Avery was nice to try to stick up for the man she loves, but at this point they should just play along and get whatever information they can.

Back to Lily for a second. She annoyed the heck out of me for being so bratty regarding Hilary working for Neil and Jack (although I loved Neil sticking up for Hilary), especially since she then hired Kelly. Kelly even called her on her hypocrisy. 

I'm liking Kelly more every day and telling Jack she's ratter eat a cold, soggy sandwich on an icy park bench than ever have lunch with him again was brilliant coming from Cynthia Watros. I'm just not sure the same attitude will carry over when Cady McClain takes over the role.

I know a lot of you aren't liking what's going on lately, so let's try to find out what's tickling your fancy!

What story are you most interested in right now?

Carissa Pavlica is the managing editor and staff writer for TV Fanatic. Follow her on Twitter and on Google+.

Tags: The Young and the Restless, Soap Operas