Something hit me while watching the credits for The Bold and the Beautiful last week: this is one inbred group of people.
There are Spencer Forresters and Forrester Spencers and Brooke has children with Eric and his son, Ridge. These people really need to branch out. No wonder They're all so angsty all the time!
Twice during the last week Aly showed just how naive she really is with some truly comical statements. First, when Liam said he just had to get out of the house (because Bill was having his way with Quinn) she asked, "Why? Is it being fumigated?"
Later Oliver asked her out for coffee and she asked, "Don't you like the coffee here?"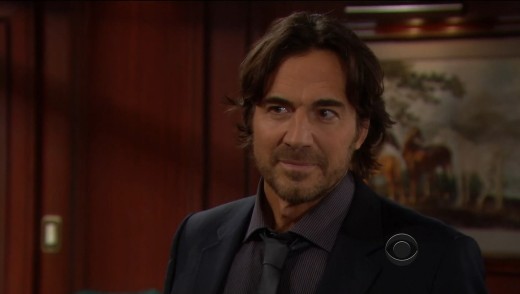 The writers must have decided to let go of their Aly stalks Hope story because there is no way someone that blank could possibly come up with a cunning plan to do anything truly nefarious.

Two people who were working cunning plans were Ridge and Brooke.

Ridge burst into Forrester intending to push Rick out of the President's chair and start running the business again. His first order of business was to call a meeting but he was unaware Brooke had decided to come back to work that very day. Showing the Forrester couture line next to Hope for the Future, Ridge announced their branding was too confusing to the public and if they didn't pull it all together failure was imminent.

To that end, he was just going to go ahead and fire Oliver and merge the lines then take over as president -- thank you very much meeting adjourned.

Not so much. First, everyone disagreed with him on his decision about Oliver. Being one of only a handful of non-Forrester, Logans or Spencers on the map, he wasn't going anywhere. As far as messing with the HFTF line, Mama bear Brooke pulled Eric aside for a little tête–à–tête. 

She felt it was no time like the present to share the horrible decision Ridge made about her and his affair with Katie. Brooke has a way of making it sound like she really loves Katie and respects Ridge's choice to be with her and this is all about her children. Bull. She got exactly what she wanted from Eric. He put Ridge in his place by denying him the presidency and forced him to be a "co-vice-president" with Brooke.

There is no such thing as a co-vice-president. There are just multiple vice presidents. Perhaps they should do some research on the business world before writing such riduculousness into their scripts.

Naturally, Katie is angry and lashes into Brooke. Brooke just bats her lashes at Katie and says it's all about Rick and what he deserves. Gah.

To top it off, Eric has decided that Brooke and Ridge are the faces of Forrester for the future. Literally the hope for the future, if you will. He tells Ridge if he goes back to Brooke he'll abdicate his position and give it Ridge. You can literally see the wheels spinning behind Ridge's eyes. I just hope he's thinking that the reason he left in the first place was because he was sick of all these sick games and wondering how he can gracefully tell his father to stick it where the sun doesn't shine, that he'll earn the position and boot dad the hard way.

Aly was being played, as well. When Oliver was fired, he kept saying how lucky Aly was because she was a Forrester. Since he took photos of her and complimented her she has quite a crush on him. I'm imagining a scenario where he woos her into marriage to make his way into the family. After all, he wasn't successful with Hope, but Aly is quite gullible. That tea he spilled on her hand worked like magic!

Will Carter and Maya intervene on Aly's behalf or will they stay out of it?

This is completely off of any other topic but something I noticed and had to point out. Pam has no electronics on her desk. Are we to believe she uses paper calendars to keep everyone's schedules straight for an international corporation? Give the woman a computer for goodness sakes!!

What do you think? Chat about the power plays, the low blows and who is going to end up hurt.

Will Ridge take Eric's bait?

Carissa Pavlica is the managing editor and staff writer for TV Fanatic. Follow her on Twitter and on Google+.

Tags: The Bold and the Beautiful, Soap Operas