Parallels between the CW teen drama's
I'm really excited about this thread. Even if I won't make that much of a long text I'm going to do the same and compare it to Dawson's creek. Here you go : 
Serena is similar (not the same) to Jen, because she is the bombshell blond from NYC who can be the party girl or the good girl 
Blair is a little like Joey, an all time overachiever who wants straight A and go to Yale
Nate is a little like Jack, always there to gather his friends together and unfortunately very rarely has a story of his own.
Dan is a little like Pacey, kind of the outsider who feels unworthy of anything while in reality he is the Best boyfriend ever! 
Chuck couldn't be in Dawson's creek, so even if I can see a little bit of him in season 3 Dawson and season 4 Drue Valentine he is just not worth anything...
Any parallels between teen dramas are probably just the by-product of years of shows recycling the same handful of hormone-fueled, angst-inducing cliches, tbh.
That said, the O.C. was something special. Shame so many shows since then have just been inferior imitators (see: One Tree Hill).
To me, Blair and CHuck are two characters who are not similar to any of the characters in OC and OTH. Blair is maybe a little like Brooke but just because some people perceive her as shallow bitch as WisW said but I can't remember that Brooke or Summer were ever as complex characters as Blair is, and they were never vicious as Blair, but that is why Blair is very special character to me. I find her much more interesting than Summer and Brooke. Also, in my opinion CHuck can't be compared to any of other characters in OC and OTH, he maybe has bits and pieces from some characters, but it is difficult to find a single character to whom he can be compared. Maybe I am wrong, I watched OTH long time ago and OC on and off, so pardon me. :)
Chuck and Blair remind me of Marissa and Ryan. Two very complex characters with some sort of dysfunction, with the more stable one (Blair/Ryan) drawn almost magnetically into the life of the less stable (Chuck/Marissa) out of love and a desire to help them. They face an uphill battle trying to make their relationship work but constantly hurt each other despite -- and sometimes because of -- how strongly they feel about each other. It's a constant push and pull defined by passion, tragedy, and deeper personal struggles.
I hope for both Chuck and Blair's sakes their stories end in a happier place than Marissa and Ryan did (even if I don't personally hope that's together).
What strikes me about Dawsons Creek is that their characters are way too mature to be like anyone on GG, OTH or The O.C. It's a great, well-written show but I feel that the characters know themselves too well and the show is very down-to-earth so the drama isn't as exaggerated as it is on the other 3.True! Dawson's creek didn't need that much drama and it did fine in all seasons. There were moments where it was just the group reuniting and talking about life and how lucky they were to have each other. It's the aspect that I do not connect with in GG . In the first few seasons, I felt like the group was only together when it came to scheming and that the characters had no heart whatsover. Now it's even worst...
Probably...But for how rich they are I think it's more like a soap opera. I caught one episode the other day of the young and the restless where their private airplanes looked like a living room. These guys are so rich and are always in fashion....My grandmother told me they have their own 'gossip magazine'...sounds very familiar to me ...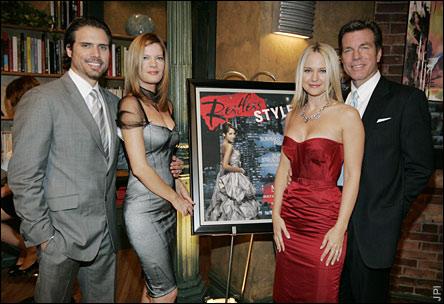 Every other show I watch feels so inferior and their problems seem so typical.You should really watch Young and the Restless. Apparently people rape other people in the show and two years later they are happily married (sound familiar?) .....Some people come back from the death (sound familiar?) and most people gossip about each other to make their self esteem feel better...Hum... GG really does sound like a soap opera....Now more than ever!
One Tree Hill was a brilliant show the first four seasons, in my opinion the best teen show I'd ever experienced. The characters had depth and were developed so well. There was some humour and plenty of endearing moments between characters. They dealt with issues such as drugs, friends, peer pressure, death, homosexuality, relationships, school and growing up in interesting and healthier ways than other shows did. Although the characters aren't angels they admitted their mistakes and would try and correct them. This isn't the case in a show like Gossip Girl, the show simply sends no good messages to teen girls. Chuck and Blair is the most unhealthy, abusive teen relationship I've ever seen. They actually disgust me. Dan and Blair was an improvement but with all the Chuck and Blair nonsense it simply couldn't move forward in a realistic way. Dan and Serena were good, I always felt. Dan made Serena a better person and when she's not with him she's selfish and idiotic. I feel as though Nate is the only character on Gossip Girl who has redeemed himself in someway. He wants a simple relationship with Lola and a good job at the Spectator. He genuinely wants a normal, happy life. Lily has gone backwards and at this point I feel she should probably just be killed off the show and Rufus is as whiny as ever. I see the comparison to Chuck and Nathan but Nathan was actually a good person underneath, although Chuck has been raised terribly by his father they haven't exactly convinced me that he is a good person underneath. Nathan was easily redeemed within the first season of One Tree Hill, he was really a better person than Lucas in the end. They've tried to convince us that Chuck is actually a good person in the last couple of seasons but I'm not convinced. The whole letting go of Blair and getting Monkey and magically transforming into someone good was too forced and didn't feel realistic at all.