What TVD scene has made you jump up and down in excitement???
hmmnn,well I think theres a few for me...to be honest whenever tvd is on I jump up and down with exitement:)
- 1x22, damon/katherine kiss,well...I was only jumping until we figured out it was bloody kathrine...argh she manages to ruin everything!
- 2x10, when damon goes to get elena from giving herself to elijah,the bit where she tries to hit him and he grabs her hand and says "Don't you ever...do that again," and they get soooo close its like their going to kiss..but they dont.
-2x11, when rose gets bitten,maan I hated her ever since she kidnapped elena. THEN she goes and kisses damon and the have sex?! When jules jumps through the window I was scared she'd get damon,but when she got rose I was cheering her on!
xox
I absolutely loved the scene in season 1 where Damon and Elena danced at the Miss Mystic Falls Pageant. It was electrifying.
I I love the smile on her face as she dances with him, it's so sweet and innocent. And is it just me or does she always gaze at his lips, as if wanting him to kiss her?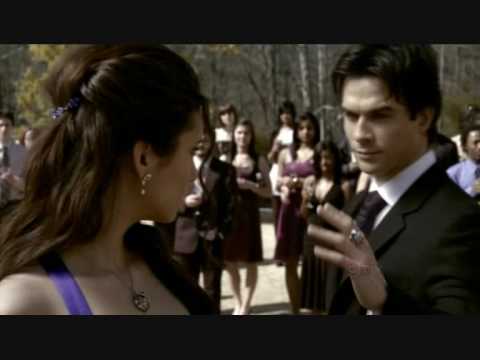 Intense! The way they gaze at eachother as if looking into eachothers' souls.
They are so cute and it would be epic for them to be together, not temporarily but permanently together.