Watch TV Online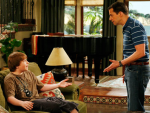 Watch Two and a Half Men Season 5 Episode 18
"If My Hole Could Talk"
Original Air Date:
Charlie's attracted to an older self-help book author (Susan Blakley); Alan tries to get Jake to finish his book report for a book he keeps losing.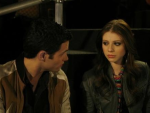 Watch Gossip Girl Season 1 Episode 17
"Woman On the Verge"
Original Air Date:
Georgina is bombarding Serena's voice mail. G really wants to hang out, but S is ignoring her. While Dan and Serena may be having troub...
Watch One Tree Hill Season 5 Episode 17
"Hate is Safer Than Love"
Original Air Date:
Lucas is crushed by devastating news from Lindsay, and when his star player is targeted on the court by the opposing team, his pent-up fr...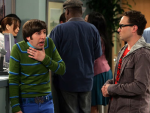 Watch The Big Bang Theory Season 1 Episode 16
"The Peanut Reaction"
Original Air Date:
When the boys go to eat at Penny's restaurant, she learns Leonard has never had a birthday before. She decides to throw him a surprise party and blackmails Leonard into helping.
Watch 30 Rock Season 2 Episode 15
"Cooter"
Original Air Date:
Jack gets a job in politics. When the job is not what he expected he schemes with another government employee, Cooter, to get fired. Ja...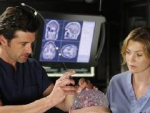 Watch Grey's Anatomy Season 4 Episode 14
"The Becoming"
Original Air Date:
The Seattle Grace nurses have brought in a union rep and a nurse mediator (none other than the Chief's wife Adele) to institute a new "da...
Watch The Office Season 4 Episode 13
"Job Fair"
Original Air Date:
Michael, Pam, Darryl and Oscar man a booth at a job fair to recruit a summer intern. Back at the office, Dwight finds himself in a stran...
Watch Reaper Season 1 Episode 16
"Greg Schmeg"
Original Air Date:
Andi's ex-boyfriend, Greg, reappears and asks Andi out on a date. It turns out Greg has sold his soul to the Devil in order to win back his true love. Sam nearly gets his head taken off by an escaped soul and gets no help from the Devil.
Watch How I Met Your Mother Season 3 Episode 18
"Rebound Bro"
Original Air Date:
When Ted breaks Stella's trust by telling the gang she hasn't had sex in five years, their relationship becomes rocky. Meanwhile, Barney is desperately seeking a new bro and tries to make one out of a co-worker (Will Forte).