Watch Fringe Online Free
Try Amazon Prime for FREE and watch this title!
Fringe Season 4 Episode 5: "Novation" Photos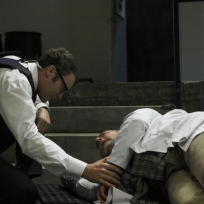 Added:
Displaying 1 photo
Around the Web
Want more Fringe?
Sign up for our daily newsletter and receive the latest tv news delivered to your inbox for free!
Olivia: Walter, he says you're the only one he will speak to.
Walter: Me?
Olivia: Walter, he says his name is Peter Bishop. He says he's your son.
Well, what choice do I have? I've been haunted for weeks with visions of a strange man. And now the man is here, in the flesh, in our midst, and no one will let me examine him or even see him. I'm kept in the dark knowing nothing. How's a man supposed to get some rest with all these uncertainties?

Walter