Sons of Anarchy Season 3 Episode 9: "Turas" Photos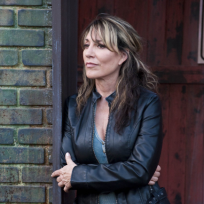 Added:
Displaying 1 photo
Around the Web
Want more Sons of Anarchy?
Sign up for our daily newsletter and receive the latest tv news delivered to your inbox for free!
Gemma: Who the hell are these people? Using a baby like a God damn poker chip.
Jax: It's not just them. This happened because we deal guns with the Irish. Let's not kid ourselves we're the victims here.
Gemma: Maybe that profound awareness helps relieve your guilt, but now is not the time for soul searching. You focus on the hate you need to kill all these Irish pricks.
I'm sorry guys. I had no idea what I was walking you into.

Jax