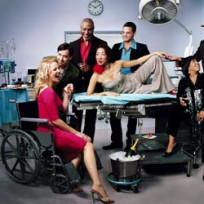 14Grey's
Hello,
I'm a HUGE fan of Grey's no matter what anyone says. I'll watch it til the day I die. I most likely won't be on here much, but I think I should have an account on a website about Grey's Anatomy since I'm such a great fan. I love the show and all of it's characters, and have grown to love each one of them, especially Meredith. Ha-ha. Anywho, I'm a fan, blah blah blah, and oh yeah, Grey's Anatomy RULES!!! :)
Member Since:
39 Forum Posts
Weeks have passed, and Izzie is able to work again. However layoffs at the hospital begin to take place. Everyone tries to keep from getting cut from being layed off...
Which is the short desription given.
Hey if you guys would like to know the episode title of the next episode check out my post under episodes.
Is the name of this thrid episode after Good Mourning/Goodbye. Just thought I would share some minor Grey's details!