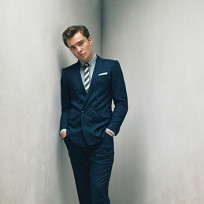 ChuckBass&BlairBass
The one thing that you need to know about me is that I LIKE LOVE and Adore Chuck and Blair! They are my favorite characters on Gossip Girl. they are the whole reason i watch the show!  Also i can't get enough of Ed Westwick. he's just so hot!! I consider myself a little obsessed over him cause of how many pictures of him i have on my computer. (it's strange and creepy i know) i think he's the only celebrity i will freak out over like a fan girl. oh and thats another thing I'm a Teenage Girl. i just can can't wait for season 3. i'm just wandering how chuck and blair relationship will turn out. >:3 X.O.X.O. >.< 
Member Since:
4 Forum Posts
@Andie1391 you never know! he could lose his memeories, i don't think it's likly that much because he didn't really take a hit to the head as much as i could see but it's a theory, it would be an awsome story line if they did do that though. lol yep i just love that DAMN chuck Bassterd. .lol
Ok, i've got to say how in the world!!! do you end GG with CHUCK dying!!!!! or on ther verge of it!!!! that is so wrong!!!! one of the things it made me think of when he got shot was that. the GG writers are killing off the Bass line!!!!! first chucks mother then chucks father and now CHUCK himself!!!!!! come on!!!!!! once again how do you end GG with chuck dying/on the verge of dying!!!!!!! HOW!!!!! WHY!!!!!!!! smdh. that is so wrong they want to kill me too. the GG writers want to kill me. if i didn't know that ed westwick would be filiming in paris, then i would of really thought chuck was dead!!!! for a whole i don't know SUMMER!!!! i would be so hurt the whole time!!!! well lets just hope he is not dead. who knows about now besides the freaking GG writers!!! >:C
lol sorry for the long rant. dang i had alot to say. i'll be surpised if anyone reads it.