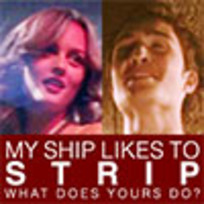 Distance Makes Them Stronger.
Don't Mock The Scarf. It's his signature. Don't Mock The Suspenders. They match Blair's outfits. Don't Mock The Shorts&Suspenders. Chairsexftw. Dun.Mock.Teh.Srsbsns. GG is srs bsns. Don't Mock The Scrooge. Happy holidays. Don't Mock The Shades. B is not amused. D Most Tenacious Ship. ENDGAME. Distance Makes Them Stronger. (
icon
)
What does your ship do?
Tumblr
Twitter
Member Since:
2244 Forum Posts
VanderWoodsen: the buses look lined up and parked though:
(rehearsal)
(looks like the real scene)
And it's a Dan/Cameron/Dorota/Blair scene I think...it would be totally weird for an accident to happen during that especially when Dorota is probably gonna go into labor there.
K, bye fo realz!
CheruB: no prob.
Yes perhaps they're gonna do a "maybe in the future" and dial it back to pre-Victrola friendship. Could be cool, could be horrible regression that'll do nothing to fix the damage done this season, but we shall see.
Yayz.
Yeah thats the thing causual viwers who arent part of the fandom seem to really enjoy chair as does the media and reviewers- another reason why they rule!
Cause these two make it work.
THIS IS SO WRONG
Fixd it.
Anyway I'm off. Nice to be on here again, all things considered. :D