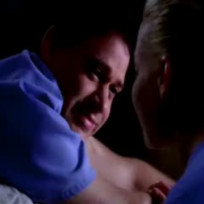 drcookchick
Favorite TV shows: Grey's Anatomy, Joan of Arcadia, Friends, Whose Line Is It Anyway?, Knight Rider (new version) and Dexter. Favorite YouTube shows: The Allen and Craig Show, What The Buck, Dan Brown Universe and Ethan's Adventures. I will watch anything with the following actors/actresses: T.R. Knight, Patrick Dempsey, Justin Chambers, Heath Ledger, Johnny Depp, Michael C. Hall, Bill Pullman, Tom Hanks, Jennifer Anison, Chyler Leigh, Katherine Heigl, Sandra Oh, Kate Walsh and Sandra Bullock. Music: Green Day, John Mayer, David Cook, David Archuleta, Rob Thomas, Matchbox 20, Robert Palmer, Rick Springfield, Def Leppard, Maroon 5, Josh Kelley, Michelle Branch, Lifehouse, Blake Lewis, Matt Nathanson, O.A.R., Vertical Horizon, Marc Anthony, Bryan Adams, Bowling For Soup, Daughtry, Saving Abel, U2, Evan and Jaron and The Fray.
Member Since:
54 Forum Posts
I never got to see the site -.-  I even tried "georgeomalley" and still didn't get in.
I have too many to name, so I'll narrow it down to three:
S1E9: "Who's Zoomin' Who?" - I absolutely love George in this episode. The syphilis thing is so humiliating and funny. And the actor himself likes this one, haha. Love Addison's entrance. I love how she's so New York Biotch showing up in Seattle to tear MerDer apart.
I just know the season, but not the episode number: "Six Days pt. 2" - This is the episode that got me into the show. It's always going to hold a special place in my heart, so it deserves to be mentioned. The girl with scoliosis walking, George's father dying... It was such an emotional episode and so many people can relate to some of the events that had happened.
I know it's season two, but I don't remember the episode or title. But it was the one with Bex. I love George in this one (well, I love him in every episode, but especially this one as well). The way he communicates with Bex is so sweet.
A few others are "Thanks For The Memories," "Grandma Got Run Over By A Reindeer," "The First Cut Is The Deepest," "A Hard Day's Night," "What Have I Done To Deserve This?," "Yesterday," and "My Favorite Mistake" (Gizzie!).
You can't pick just one :-)