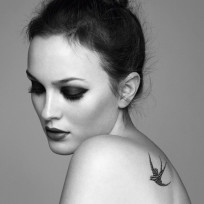 ellenelle8
17 year old girl living the teenage life while obsessing over TV-series. Glee, Gossip Girl, The Vampire Diaries, Modern Family, Criminal Minds, Community, The Big Bang Theory...You name it, I'm watching it (as long as it's any good). I think WAY to much and series are the only thing that makes me fully relax. I don't smoke or do drugs but i shop like a maniac and watch series like a caffeine infused Sheldon Cooper! Besides TV-series, fashion is currently my greatest obsession so me being a Gossip Girl fan kind of goes without saying. xoxo Ellen  
Member Since:
13 Forum Posts
Casual, sweet, comfy, red carpet-ready or rockin' those skin-tight jeans: Leighton Meester does it all, and in my opinion DEFIANTLY SUCCEEDS! OMG, the girl is so freakin perfect i just wanna fold her into tiny little pieces and put her in my pocket! Sorry the serial-killer-ish tendency i get when i write about Leighton, i just love and adore her really, really bad :D Aaah, and when i found these pics on a Norweigan style-site, i just had to share them with you. C'mon, the girl looks good in anything. Bet she could wear UGGs and Dior at the same time and still look like something between Grace Kelly and Audrey. - Keep sharing your love for Leighton, although you'll probably never best me ;)
xoxo ellen
Only a few days since my last post here, but it feels like years! Guess I've missed discussing our fav actress and most gorgeous person on screen. Thanks for the Leighton/Vera Wang post, so exited to see Leighton promote something really big, which means we get so see her flawless face even more :) And although I've probably said this before, i definitely prefer Leighton with natural or at least natural-looking make-up, especially minimal eye make-up. She got those Hollywood doe-eyes that makes me think of Audrey Hepburn and classic beauty. And with red lips, Leighton knocks the breath out of everyone with an eye for beauty: 
xoxo ellen
Have to admit I'm a little bit jealous of you, eGGchairxoxo! Wish i were the one living in UK enjoying that gorgeous accent and of course Marie Claire;) Lucky you!
So i just have to settle with the online pictures instead of the glossy magazine pages (which I have to admit would be AWESOME)...
PS: Sorry guys for acting like i own this forum and always commenting and posting pics, but my love for Leighton and tendency to get really bored during classes just results in way to much fangirling and time spent here ;) Well, you know you love it!
xoxo ellen
(Whoops! I tried to keep my self from doing this, but  I just had to add another one of my favorite pics of my favorite girl. Please forgive me (?)