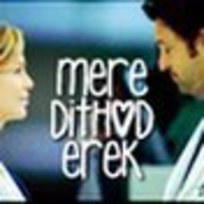 MerDerForever
I am seriously addicted to Grey's Anatomy. I love Thursday nights!!! Favorite relationship- Meredith and Derek of course!!! I can't get enough of their scenes!!! So excited that we finally got our McBaby! Zola Grey Shepherd and Bailey Grey Shepherd have the best parents in the world. TGFT- Thank God For Thursdays!!
Member Since:
Favorite Shows
23 Forum Posts
@Molly....
Thank you so much!! This is amazing! It's quite sad that I can sing along to this song and there are no words :) Such a beautiful composed piece of music!!!
Person 1: Bomb guyPerson 2: MeredithPerson 3: DennySeason 3 at the end of Episode 16- Drowning On Dry Land
You can tell me....who's damn panties are on the bulletin board?!?!?!
Cristina, Addison, and Derek season 3!!
"We're adults...when did that happen? And how do we make it stop?"