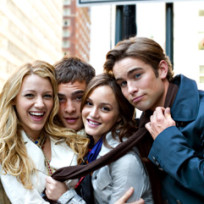 headbands&scarves
gossip girl is pretty much the coolest show ever. leighton meester is my alltime favorite actress and ed westwick takes the title of favorite actor. chuck is my favorite character, followed closely by blair. then dorota :) i now wear headbands almost every day because of this show.
Member Since:
276 Forum Posts
ooh so i just checked out the november thing and i found this site, for anyone interested. it says a single is coming out in september :)
thats awesome!! i really like body control and birthday... i like how electro pop it is, even though its sorta a guilty pleasure type thing, but i absolutely love it!!!!
i hope it actually does come out in november and doesnt get delayed again :(
i like dan and vanessa. i think they would make each other more interesting, which is very necessary.
another couple that really needs to happen??? serena and nate!
so, i want chair, dan/vanessa, serena/nate. not too much to ask right? haha.