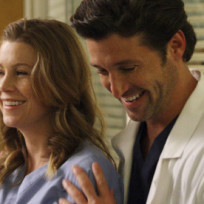 lovesgreys
"At some point, you have to make a decision. Boundaries don't keep other people out. They fence you in. Life is messy. That's how we're made. So, you can waste your life drawing lines, or you can live your life crossing them." "Sometimes we have to see for ourselves. We have to make our own mistakes. We have to learn our own lessons. We have to sweep today's possibility under tomorrow's rug until we can't anymore. Until we finally understand for ourselves - that knowing is better than wondering, that waking is better than sleeping, and even the biggest failure, even the worst, beats the hell out of never trying."   *huge merder lover :)
Member Since:
1659 Forum Posts
I also knew who it was right from the beginning. And some people said some foreshadowing things so I kinda picked up on it.
I loved Mandy Moore being in this episode :) shes a good actress
Absolutely crazy. I was in shock the whole time not even able to cry up until Cristina was operating don't wanna give anything away soo :x but my heart was racing the whole time and i was shaking. I loved it though, the ending came together nicely. I'm a little confused with Mer at the end though. Most suspenseful episode of Grey's ever.. how do we make it all summer!?
PP was heartbreaking. I cried for the last 15 minutes of the episode. Grey's was really good, next week looks crazy!