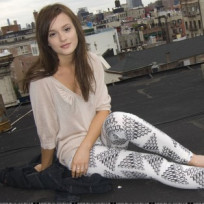 Kimmie
I LOVE Chuck and Blair. They are my favorite couple ever!!! Chuck just makes my heart melt with his smirk...oh and his signature scarf. Ed Westwick is amazing. His ability to have an American accent just blows my mind away. And of course I also love his British accent. Leighton Meester by far is the best actress on the show. Queen Bee is my idol (lol). I am still contadicting on whether or not I should read the Gossip Girl Book Series because I heard Chuck and Blair doesn't hook up in it so I may not read it after all.
Member Since:
34 Forum Posts
Oh wow I really didn't even notice that GG wasn't narrating until now. And I am so confused about the Blair's promise to God. This storyline is ridiculous. And I am so happy Chair was trending worldwide. 
Blair praying to God was completely understandable. I have a hard time believing that Blair would let chuck go just because the nurse just happens to show up right after she Mae her promise to God. 
Sorry I mean to say you CAN VOTE AS MANY TIMES AS YOU WANT.