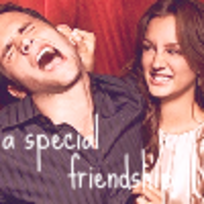 Serair.
      Hii (: I'm a Chair fan. I think they're the cutest. Like Jenny  w/o her bitchinesss but w/ all her rebelness (: Like Serena. LOVE Lily & Rufuss. Wish Serenate would be given a chance. Hate Jenny & Nate together (n). Miss the old Blair & Chuck :( Chuck voice is orgasmicc <333 Dan Humphrey is cute sexyy! (: (starting S3) Vanessa is not. and ofc big fan of Gossip Girl <33 no matter what I wont give upp on the show.
Member Since:
206 Forum Posts
Is it going to show next week monday in Canada, because I really don't want to wait 2 weeks.
The promo just says monday ... so Im not really sure.
Does anyone know why it is showing in the next two weeks anyways?
CAN WE NOT EVEN GET PAST 10 EPISODES WITHOUT CHAIR HAVING SEX?!?!!?!
would we want too?
hmm.. it just feels like Serena drama.