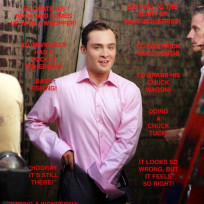 lovetvtoomuchxo
hi,,,, l am a mad gossip girl fan..... love the show eben though sometimes it makes me want to scream..... my favourite couple is definitly chuck and blair...... l love to watch other shows but must admit this show is by far my favourite..... l love fan fiction that is my other secret pleasure..... hope to chat with you all and share some exciting times!!!!!!! liz
Member Since:
1152 Forum Posts
I need another season, or if not a full season...
Put will be to rushed...
its still daylight here and l  have anotyher hour at work...
common someone should still be here...
good night....
l really do hope we get more episode from this show, but hey if it gets canned l have fanfiction...lol...
Want more ?
Sign up for our daily newsletter and receive the latest tv news delivered to your inbox for free!