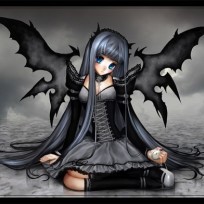 The_Outsider
My name's Onyx Lynn. I love Doctor Who, NCIS, Criminal Minds, Inuyasha, Pokemon, CSI, Bones, Glee, Being Human (British and American Version), The Big Bang Theory, Criminal Minds: Suspect Behavior, NCIS: Los Angeles, Pretty Little Liars, American Idol, The Walking Dead, V, Ghost Whisperer, Survivor, Yo Momma, and others like that.
Member Since:
1 Forum Posts
 I am so totally in love with David Tennant. He's definitely the best Doctor. I write fanfiction all the times. The name's Onyx. Onyx Lynn.  I'm goth, just in case you're wondering. Bi, too. 
Love ya'll. Also, who thinks that the new Doctor, Matt Smith, should meet one of the 10th Doctor's companions again?