Spoilers (Page 9)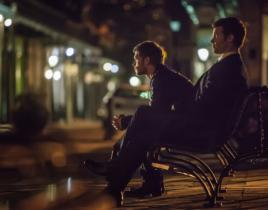 The Vampire Diaries is preparing fans for a trip to The Big Easy. Earlier today, we posted the official episode description for "The Originals," the unique...
Ready to take a trip to New Orleans? On April 25, The Vampire Diaries will air "The Originals," an episode meant to serve as a backdoor pilot for, well&hel...
Is a vengeful Ziva David about to go rogue on NCIS? This possibility was alluded to earlier, and apparently becomes a genuine possibility in next week's ep...
On April 18, Glee Season 4 returns with a bang. Literally. The episode "Shooting Star" will focus on New Directions preparing for Regionals, only for an un...
On April 25, Vampire Diaries viewers will head to New Orleans, as Julie Plec and company takes us to The Big Easy and into the world of The Originals. But ...
It's not everyday that one of our own gets to moderate a panel at WonderCon 2013 - but that's what happened this weekend when West Coast Editor Jim Halterm...
The Walking Dead Season 4 will feature at least one brand new face. AMC confirms that it is seeking an actor in his 30s or 40s to come on board this fall i...
The bad news: Once Upon a Time Season 2 is on hiatus until April 21. The slightly better news: When this ABC hit returns, we'll meet Robin Hood. We'll also...
The final day of WonderCon 2013 did not go out with a whimper because the Arrow cast descended upon attendees and journalist at the annual Anaheim event fo...
Even though last week's episode of Dallas made it look as though Pamela's twin babies were flat-lining after the trauma from the methane rig explosio...