TV Fanatic Works Better with Prime Instant Video
Try it Now for Free and Instantly Watch Grey's Anatomy.
Chyler Leigh Videos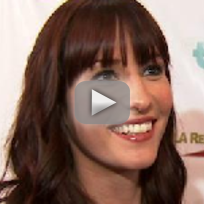 Added:
Displaying 1 video
Around the Web
Want more Grey's Anatomy?
Sign up for our daily newsletter and receive the latest tv news delivered to your inbox for free!
There's a reason I said I'd be happy alone. It wasn't 'cause I thought I'd be happy alone. It was because I thought if I loved someone and then it fell apart, I might not make it. It's easier to be alone, because what if you learn that you need love and you don't have it? What if you like it and lean on it? What if you shape your life around it and then it falls apart? Can you even survive that kind of pain? Losing love is like organ damage. It's like dying. The only difference is death ends. This? It could go on forever.

Meredith
Did you say it? 'I love you. I don't ever want to live without you. You changed my life.' Did you say it? Make a plan. Set a goal. Work toward it, but every now and then, look around; Drink it in 'cause this is it. It might all be gone tomorrow."

Meredith (closing voiceover)