Barbara Walters Profiles Patrick Dempsey
Steve Marsi at .
The neurosurgeon dubbed "Dr. McDreamy" by the female interns of
Grey's Anatomy
has long battled a common brain disorder in real life.
Patrick Dempsey
still fights dyslexia
-- which impairs the mind's ability to process and use language -- ever since being diagnosed with it at age 12. In his interview with Barbara Walters, which airs on ABC's
Barbara Walters Special
tonight, the Maine native discusses how dyslexia and other obstacles have shaped who he is today.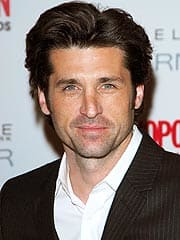 "I think it's made me who I am. It's given me a perspective of â€" you have to keep working. I have never given up," he said.
The 40-year old actor says that he struggles when reading scripts and memorizing his lines as Dr. Derek Shepherd on the hit ABC series.
"I think that's when I get the most insecure ... it's very hard for me to read it off the page. I need to memorize it, in order to go on," he said.
Dempsey has also had a hard time coping with the emotional fallout from his first marriage. Before marrying hairstylist Jillian Fink, with whom he has a daughter, Tallulah, seven years ago, he was married to his manager, Rocky Parker. What makes the issue complex is that Parker is nearly 30 years his senior and the mother of his best friend, Corey Parker.
"Yeah, I think I needed a mother. There were a lot of negative things that I am still undoing from it, and will always have to remember," Dempsey said.
Now enjoying a terrific show business comeback since dropping off the radar screen for about a decade -- he had built reputation in '80s romantic comedies such as Can't But Me Love -- Dempsey admits that his run of bad luck humbled him, and that he was guilty of diva-like behavior as a young star.
"You can't have temper tantrums. You have to be professional, and I don't think I understood that at the time," he said.
Hopefully, he'll be memorizing scripts and making the interns at Seattle Grace swoon for many years to come.
Steve Marsi is the Managing Editor of TV Fanatic. Follow him on Google+ or email him here.