Grey's Anatomy Caption Contest, Part II
Steve Marsi at .
Our first-ever Caption Contest elicited 14 replies. Not the kind of participation we were hoping for, but not entirely bad for its debut. Congratulations go out to Lisa Woj for submitting the caption that was unanimously named the winner by our editorial board. Thanks to all who participated. To read the full list of proposed captions from the past week, just click on the link above.
Now, for the second Caption Contest image: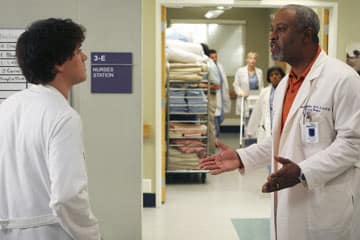 You know the drill. Come up with something witty. Something deep. Something just plain goofy. Your call. Whatever you think would make a good caption, leave it as a comment. If we get more replies each week, we will soon start giving out actual prizes. Take that under consideration.
Steve Marsi is the Managing Editor of TV Fanatic. Follow him on Google+ or email him here.