He's busy these days, balancing the roles of a family man and a charming McVet. But Chris O'Donnell will be taking on a new job with the company.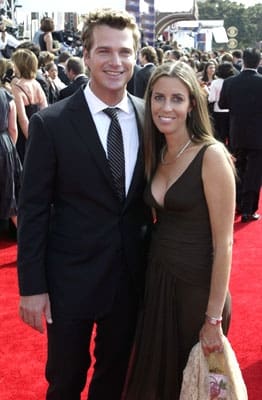 Playing agent Jack McCauliffe in TNT's upcoming mini-series
The Company
-- the insiders' nickname for the CIA -- O'Donnell will star in a story about the agency during the Cold War era.
Based on the 2002 novel by Robert Lettell, the series will focus on the double lives agents were forced to lead in that period. O'Donnell will play a loyal spy whose trust will be put to ultimate test in the intriguing world of international espionage.
To date, O'Donnell is the only one signed to act in the project.
The Scott brothers (director-producers Ridley and Tony) are the executive producers behind the series, and have experience bringing pictures like this to both the big and small screens. They pair signed Ken Nolan, the man responsible for adapting Black Hawk Down, to write the teleplay, along with renowned cinematographer Mikael Salomon.
The Company is slated for broadcast in 2007. Prior to joining the cast of Grey's Anatomy as Meredith's veterinarian and love interest, Finn Dandridge, O'Donnell's previous foray into TV was the short-lived Fox series Head Cases.
Steve Marsi is the Managing Editor of TV Fanatic. Follow him on Google+ or email him here.