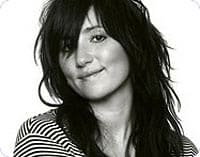 KT Tunstall, 31, hates television.
The Scottish singer/songwriter, whose nickname is derived from her initials (her given name is Kate) was raised in a home without a television or stereo, as the devices interfered with the hearing aid worn by her brother, Daniel.
To this day, she doesn't own a TV, considers the entire concept "evil" and once derided the series Friends for making a mockery of female folk singers.
It could be considered a bit ironic, then, that her alternative, bluesy folk rock sound has become a favorite of the Grey's Anatomy producers, whose eclectic musical taste plays such an important role in the series. KT may despise everything TV stands for, but the creators of one of its best shows love her -- four tracks from her debut album, Eye of the Telescope, were featured in Season Two. They are, by episode:
"Suddenly I See" from Episode 2: "Enough is Enough (No More Tears)"
"Other Side of the World" from Episode 7: "Something to Talk About"
"Miniature Disasters" from Episode 16: "It's the End of the World..."
"Universe And U" from Episode 26: "Deterioration of the Fight or Flight Response"
Four solid tracks from a great CD that's definitely worth picking up or downloading (legally, of course). Interestingly, the album's best-known track, "Black Horse and the Cherry Tree," was also featured prominently on a television show when American Idol finalist Katharine McPhee covered it on the show's May 2 episode. The song rocketed from #79 to #23 on the Billboard charts the week after McPhee's rendition.
"Black Horse" may be too mainstream by this point for Shonda Rhimes & Co., but its message -- of finding one's self on a winding path, of making a difficult choice, of fate and listening to one's heart -- resonates in every episode. No wonder KT, who is adopted, and of Irish and Chinese decent, has won over Grey's writers and fans alike.
Steve Marsi is the Managing Editor of TV Fanatic. Follow him on Google+ or email him here.