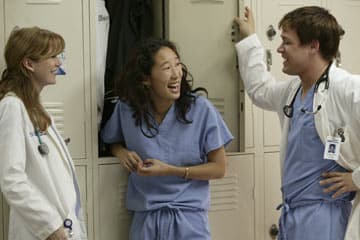 Who can forget the night we met Meredith Grey, the first-year surgical intern who hooked up with a handsome man the night before her first day at Seattle Grace Hospital, only to find out it was her boss, Dr. Derek "McDreamy" Shepherd.
Plenty of awkwardness followed, but soon, a budding romance would blossom. On her first day of work, Meredith bonded with an eclectic group of fellow interns, faced emotional family issues, and felt the growing pains of a brutal occupation.
Tonight, ABC is airing the Grey's Anatomy pilot episode, "A Hard Day's Night" at 9 p.m., as the network officially moves the series to its new time slot. New episodes will air during this time when the show returns in the fall, but for the duration of the summer, it will continue to run on Sundays as well -- including this week, when another early episode airs.
This is a great chance to relive the early days of Grey's Anatomy, when Cristina was sarcastic, George was insecure, and Bailey was bossy. Okay, so none of that has changed. Regardless, it will be fun to watch again, or perhaps for the first time, if you are a new Grey's Anatomy convert. Tell all your friends to watch... then check out the Insider for a complete recap!
Steve Marsi is the Managing Editor of TV Fanatic. Follow him on Google+ or email him here.