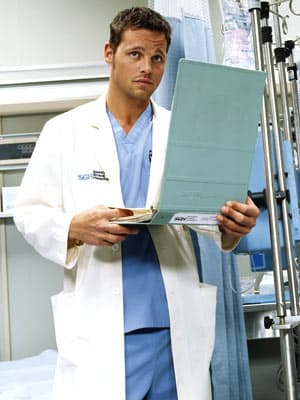 "You gave me syphilis!?!"
Who can forget George's humiliation at acquiring an STD, having all his fellow interns find out about it, then learning he contracted it (indirectly) through arch enemy Alex (right). Priceless.
But that's not even the most stunning revelation of "Who's Zoomin' Who?" -- the last episode of Season One, which airs Thursday at 9 p.m. At the end, we first learn that there is a Mrs. Dr. Shepherd. Millions of people, Meredith Grey included, were devastated. Check out our full list of quotes from this episode by following the link.
The episode which preceded it during Season One, "Save Me," will do so again, this time in the hour directly beforehand. At 8 p.m., viewers can watch Cristina grapple with a difficult case involving pregnancy (shades of things to come for her). We also learn a little about Izzie's past, Alex's cockiness, and Meredith's love for Derek... which will soon be mercilessly taken away from her. We have compiled a list of quotes from "Save Me" as well.
Enjoy. Both episodes are a treat.
Steve Marsi is the Managing Editor of TV Fanatic. Follow him on Google+ or email him here.