Good showing in this week's Caption Contest, friends. A record 81 replies, many of which were seriously funny... and many of which were quite similar. Lots of captions about black panties and MerDer love, that's for sure. 
While we particularly enjoyed submissions from Jose (R.I.P, Doc), Robby and Merel (the first Caption Contest entry to actually reference the Caption Contest), we had to go with Jen in the end. The winning caption, which appears beneath the picture, is every girl's take on the situation, yet articulated in a particularly amusing way.
Thanks to all who participated and good luck this week!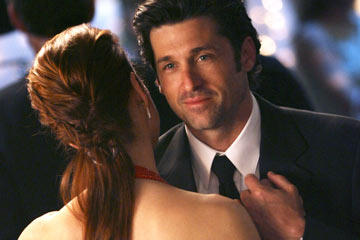 "Man, I wish the Spawn of Satan would use lavender shampoo like you do, Mer... instead she smells like Aqua Net (which she used half a can of to hold in her FRENCH BRAID)!"
Steve Marsi is the Managing Editor of TV Fanatic. Follow him on Google+ or email him here.