An executive producer of Grey's Anatomy is will be lending a hand to the new series ABC plans to air after the hit medical drama this fall.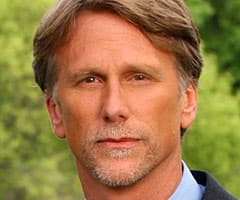 According to industry sources, Peter Horton (left), a leader among the top-notch
Grey's Anatomy
directing / producing team, will be working in conjunction with the writers and producers of
Six Degrees
for the next month and be credited as a consulting producer.
Six Degrees, which focuses on six New Yorkers whose lives are intertwined, despite the fact that they don't know one another, hopes to build success on the coattails of Grey's Anatomy this fall. It was created by writers Stu Zicherman and Raven Metzner, and executive produced by J.J. Abrams (Lost, Alias).
Rumors have it that ABC is somewhat concerned about the much-touted show's direction in its early episodes. Production stopped for a week earlier this month, a co-exec producer and director has reportedly left the series.
A former star of thirtysomething, Horton has been with Grey's Anatomy from the beginning, directing the show's first two episodes (and several others) while serving as executive producer alongside creator Shonda Rhimes.
The 53-year-old is also working with Rhimes on her forthcoming pilot about a group of female journalists, which will feature former Grey's guest star Jeffrey Dean Morgan. Horton's directing credits also include The Shield, Line of Fire and Once and Again.
Six Degrees is slated to premiere Thursday, September 21, following the season premiere of Grey's Anatomy.
Steve Marsi is the Managing Editor of TV Fanatic. Follow him on Google+ or email him here.