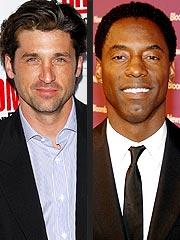 At least there would have been no shortage of medical supplies on the premises if something had really gone awry.
It's all water under the bridge now, but an on-set argument between Grey's Anatomy co-stars Patrick Dempsey, 40, and Isaiah Washington, 43, grew quite heated on Monday.
Dempsey and Washington didn't need medical aid, but the actors, who both play renowned surgeons on the show, nearly came to blows during an spat over shooting issues.
"We were like two baseball players... nose-to-nose," Washington explained to People. "We had a difference of opinion while working on set but we've resolved it."
At issue, Washington said, was "time and (keeping) the production going. The communication was lost in translation."
But no punches were thrown.
"Our faces are too beautiful for that!" laughs Washington, who plays the intense but sexy Dr. Preston Burke.
In fact, just a few hours after the dustup, Washington and Dempsey were sitting side by side at a script read-through.
"In close families arguments happen. They worked it out," Dempsey's rep told the magazine.
Washington even learned a little something about his co-star, the man know to Grey's Anatomy fans simply as McDreamy.
"I've never been that close to (Patrick) before. He has really pretty blue eyes," he said.
Steve Marsi is the Managing Editor of TV Fanatic. Follow him on Google+ or email him here.