In the latest round of what so far as been a tight Thursday fight, Grey's Anatomy topped CSI in two key measures last week.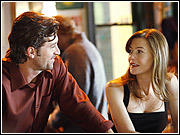 Once again,
Grey's
Anatomy
was the night's
top show
in viewership and adults ages 18-49, with 22.8 million viewers and a 9.3 rating/22 share in the demographic according to estimates released by
Nielsen Media Research
.
That was ahead of its 9 p.m. rival, CBS' CSI, which garnered 21.6 million, and a 7.5 rating/18 share).
That was good enough for the night's second-most watched show, and the week's third-most viewed, however. CBS also won the night in viewers, despite losing out to ABC in the key demographic by a tenth of a point.
At 8 p.m., the roles were reversed with CBS and Survivor (15.7 million, 5.4/16) taking both viewership and the demo for the hour.
But Ugly Betty (13.8 million, 4.2/12) continued strongly for ABC in its third airing, helping build its case for another night of strength for the network.
The 10 p.m. hour saw NBC's ER (14.4 million, 5.9/16) take both measures, ahead of CBS' Shark (14.1 million, 4.0/11) and ABC's Six Degrees (9.1 million, 3.7/10)
Despite the boost from ER, NBC remained in third place for the night with My Name Is Earl (9.9 million, 3.9/12), The Office (8.8 million, 4.1/11) and an hour of Deal or No Deal (10.1 million, 3.1/7).
The nightly averages where ABC (15.2 million, 5.7/15); CBS (17.1 million, 5.6/15); NBC (11.3 million, 4.3/11); Fox (7.9 million, 2.4/6).
Steve Marsi is the Managing Editor of TV Fanatic. Follow him on Google+ or email him here.