A Grey's Anatomy Insider reader sent us this article about how well Grey's Anatomy is doing in Australia -- particularly for the Seven network that carries it. It's interesting to read about the ratings and popularity of the show so far away. With 1.8 million viewers last week -- in a nation of only 21 million -- it's safe to call the show a bona fide smash. Here's the story:
~~~~~~~~~~~~~~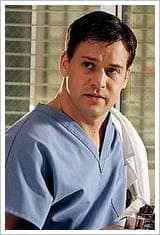 Once again on a Monday night the Nine Network has gone from leading to second place in the space of an hour on Monday nights: it just can't match
Grey's Anatomy
on Seven, which is now the most successful U.S. import of the year.
So much so that Seven will keep it going for four episodes of the new U.S. series (Season 3) when the present series ends in a week or two. Seven wants to make sure it continues to win Monday nights and give itself a chance at the week: who says bragging rights in ratings battle don't matter?
Not Seven, nah!
More than 1.8 million people watched Grey's Anatomy last night and it took Seven from third place from 7.30 to 8.30 pm, to first place for the rest of the night and a clear win overall, especially as Nine and Ten fell sharply after What A Year and Idol respectively.
Seven was running third at 7.30 pm with the Great Outdoors continuing its listless passage through the latter weeks of the 2006 ratings year.
It averaged 1.020 million, well behind Nine's What's Good For You (which added 240,000 viewers to average 1.318 million) and Ten's Idol, which was way out in front averaging 1.450 million.
But when Grey's Anatomy started, the night changed.

Nine went backwards: losing almost 300,000 viewers as What A Year averaged 1.025 million and Ten's repeat of Law & Order SVU averaged 963,000.
That was a loss of half a million viewers as they flocked to Grey's Anatomy, which averaged 1.849 million and nearly matched the audiences of Ten and Nine combined.
But at 9.30 Nine's shortage of product showed up: the repeat of Cold Case (which has been disappointing in the back half of the year for Nine), slumped to average 761,000 while Nine's Criminal Minds had another good night, averaging 1.4 million viewers and winning the timeslot Andrew Denton's Enough Rope averaged just over 880,000, which is down a touch from its average.
Ten's 9.30 contender was The Biggest loser which in the hour long original format from the U.S. just doesn't rate (as the first series last year performed indifferently for Ten. It was the half hour local version which blitzed the 7 pm timeslot earlier this year for the Network. But last night TBL (US) averaged 632,000 from 9.30 and fourth place.
Seven news won the 6 pm battle, Nine's A Current Affair won the 6.30 pm battle with TT weakening in Melbourne and Brisbane where a defined turn-off was noticed.
Seven won both slots in the Sydney market.
Seven won all five metro markets last night and Nine (NBN/WIN) won the bush where programs like Grey's do well but don't dominate as they do in the cities. Grey's was the fourth most watched program in the bush last night. Number One was ACA followed by Nine News and What's Good For You.
Compared to CSI on Nine on Monday nights, Grey's Anatomy is a much stronger and more interesting performer for Seven. CSI still grabs around 1.5 million viewers but it is down on the 1.7 to 1.8 million it was getting in 2005 and on a couple of Sunday nights earlier in the year.
Audiences for CSI NY and CSI Miami are also not healthy, meaning further problems for Nine next year.
Steve Marsi is the Managing Editor of TV Fanatic. Follow him on Google+ or email him here.