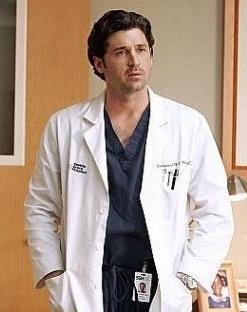 It would seem to defy logic, and it doesn't happen often, but the two most popular shows on TV last week aired
at the same time
.
That's right,
CSI
and
Grey's Anatomy
, which share the same Thursday night slot, both dominated the Nielsen rankings with more than
23 million viewers
last week.
CSI pulled out a narrow victory after being bested by Grey's Anatomy a week earlier. Only one other show, ABC's Desperate Housewives, reached 20 million viewers during the second week of the TV season.
It's not unprecedented for the top two shows to air simultaneously. It happened in April 2004 with CSI and the season finale of The Apprentice. On one occasion this summer, it happened with America's Got Talent and So You Think You Can Dance.
But with the popularity of Grey's Anatomy and CSI, there's a good chance of its happening several times again.
While both shows are big hits, they appeal to different audiences, said Larry Hyams, ABC's chief researcher.
Grey's Anatomy
more than doubles the CSI audience among women age 18-34, while the CBS crime drama is a big hit among men over 50.
"If they were both going after the same viewership, you probably wouldn't have as high ratings for either program," he said.
Add in the audiences for Deal or No Deal and Celebrity Duets, and more than 60 million people were watching CBS, ABC, NBC or Fox at 9 p.m. Thursday, which was ABC's prime motivation for shifting Grey's Anatomy to that spot, even if it had to compete with a heavyweight series.
Retailers want to promote their products for weekend shoppers, and movie studios want to get people to check out their new releases, so they pay extra high prices for Thursday advertising time. The ratings garnered from both Grey's Anatomy episodes thus far in Season 3 certainly suggest it was worth the risk!
Steve Marsi is the Managing Editor of TV Fanatic. Follow him on Google+ or email him here.