The life of a celebrity has its ups and downs.
For the past three years, it's been a lot of ups for Kate Walsh.
For starters, the actress is one of the stars of Grey's Anatomy, the ABC hospital drama that is now TV's No. 1 show.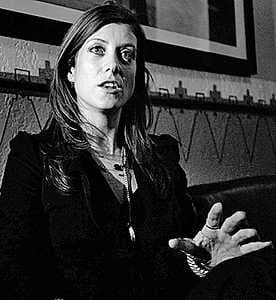 Her fame started as soon as Walsh appeared as the striking Dr. Addison Montgomery Shepherd, the jilted, philandering wife of Dr. Derek Shepherd, and one-third of one of TV's greatest
love triangles
.
"I never imagined this," Walsh told the Arizona Daily Star, as she returned to her onetime hometown of Tucson, Az., where she attended Catalina and Rincon high schools as well as the University of Arizona.
"For a show that's in a competitive environment to stand out is great."
With celebrity comes the opportunity to become a celebrity face for issues she holds in high regard. Organizations came calling rather quickly.
She's been involved with the Special Olympics and the Susan B. Komen Breast Cancer Foundation (she made public service announcements for it during a recent episode) and hopes to get Habitat for Humanity interested.
But right now her priority is Planned Parenthood, the organization known mostly for its stance on abortion rights, but which also pushes for sexual and reproductive education.
Attending a benefit for Planned Parenthood at Club Congress on Saturday — the same place she once worked as a cocktail waitress while discovering herself as an actress — Walsh spoke with joy about the bizarre fact that people pay attention to her more now that she's on a hit show.
"For whatever reason, if you're on TV — especially if you're on TV — people will say 'We'll listen to her,'" Walsh said. "You can be a service for things. It's odd, but it's great."
Walsh, 39, said she's always wanted to push for women to speak out more about sexual topics, either with their doctors or sexual partners.
It's a great coincidence that she plays an OB-GYN, and great fortune that she works on a show that aims, in the end, to be more than a sexual romp in the closets and bedrooms of Seattle doctors.
Walsh mentioned a recent episode ("Blues For Sister Someone") featuring a Catholic wife who came to Addison asking for her fallopian tubes to be tied.
"That was an episode I thought was going to create some controversy. But I was surprised that we were able to do the episode," she said.
But Walsh isn't only representing Planned Parenthood and its ideals through her popular character. She serves on the organization's Board of Advocates, and she said she's working with her publicist and others to create a makeup compact that can hold a condom.
"It's still a stigma for women to carry a condom. I'm just trying to indoctrinate sexual health into their minds. It'll help women feel empowered," she said.
Walsh is comfortable being a public face of a well-known organization. But the information she's learned from experts is overwhelming.
"I learned a lot of things on the job. But these people definitely have taught me much more than I imagined," she said.
Steve Marsi is the Managing Editor of TV Fanatic. Follow him on Google+ or email him here.