Imagine this: A gorgeous, smart and witty man shows up in your living room, or perhaps even your bedroom, once a day or several times a week.
He doesn't leave dirty dishes in the sink or wet towels on the bathroom floor. He never looks anything other than incredible every time you see him. And unlike some of the guys you know in real life" he never makes wisecracks about your mom, your shoes or your weight.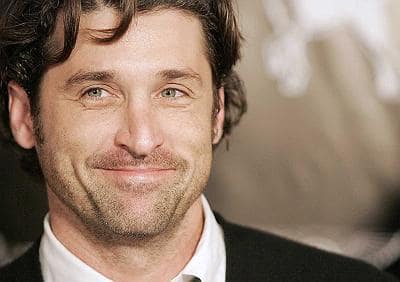 Thing is, he doesn't know you're alive.
He's your TV Boyfriend.
The Chicago Sun-Times recently asked its readers to tell us which guys on the small screen make them swoon -- and inspire them to move heaven and earth just to catch them on TV. We probably don't have to tell you who was high atop the list.
It's no surprise that TV doctors were big favorites, with both Mekhi Phifer and Goran Visnjic of ER, and Patrick Dempsey and Eric Dane (a.k.a. McDreamy and McSteamy) from Grey's Anatomy leaving their mark on viewers.
Perhaps because they took votes away from each other, none of those TV docs claimed the top spot. Thorsten Kaye, the dark-haired cutie who plays rich casino owner Zach Slater on All My Children, was the top vote getter.
Readers also flip for Comedy Central's Jon Stewart and Stephen Colbert, 24's Kiefer Sutherland and CSI's Carmine Giovinazzo.
When inviting readers to choose their dream TV boyfriends, the Sun-Times didn't ask women whether they were single, married or otherwise involved.
This is pure fantasy, ladies.
"Part of what people like about TV and entertainment is it takes them out of their lives [so they can] be in another world for a while," says Sarah D. Bunting, who co-wrote Television Without Pity: 752 Things We Love to Hate (and Hate to Love) About TV.
"Being in a world where you work with Patrick Dempsey [of Grey's Anatomy] is not a bad state of affairs for a lot of people. A woman's TV boyfriend might be a bad boy who she wouldn't be into in real life. There's an escapism element to it."
Many women pick their TV boyfriends based on actual boyfriend attributes, such as being smart and having a sense of humor.
But, Bunting says, "some people just do want to gaze upon this man for 47 minutes. It's like watching a bad sitcom, but not asking too many questions.
Steve Marsi is the Managing Editor of TV Fanatic. Follow him on Google+ or email him here.