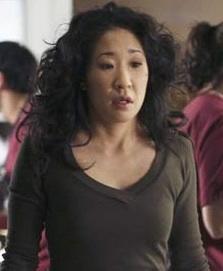 Devoted fans probably noticed that the voiceover during the beginning and end of "
From a Whisper to a Scream
" was by
Cristina
(right), a departure from the usual narration provided by
Meredith
.
This has occurred twice before in the show's brief history - in "What Have I Done to Deserve This," when George provided the narration after his awful experience with Meredith, and during the season-ending "Deterioration of the Fight or Flight Response," when the entire staff delivered an ominous introduction.
Despite being extended by 10-15 minutes from the show's usual hour-long time slot, the episode airing on Thanksgiving featured only three songs, which is less than the average of 5-7 songs per episode.
The reason for this? The writers felt that while nearly every cast member has a soundtrack playing in their heads, Cristina would not have one, for she is so incredibly focused at all times. Since Dr. Yang's inner turmoil was the focal point of the episode, the writers decided to reduce the amount of music.
At least the three selections were good ones. Many fans have discussed "9 Crimes" by Damien Rice as a terrific inclusion, and Kate Havnevik (whose "New Day" was featured Thursday) is one of the producers' favorites.
Steve Marsi is the Managing Editor of TV Fanatic. Follow him on Google+ or email him here.