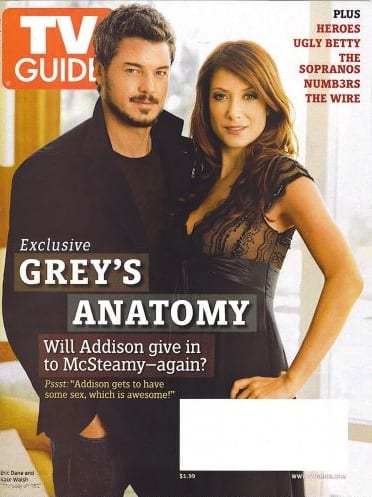 "Do you want my pickle?"
That's the question posed by Eric Dane, a.k.a. Dr. Mark "McSteamy" Sloan, a plastic surgeon known for his strategically placed towel, and one who's been heating up the halls of Seattle Grace on the new season of Grey's Anatomy.
In this week's TV Guide, Dane is actually waving a cucumber at Kate Walsh, who shares the magazine's cover with him, and who plays the woman he lusts after, Addison Montgomery. In response to his pickle inquiry, Walsh shoots him a sour look. Mark lets his pickle fall limply back into his lunch sack.
Dane, 34, walks from the set, strokes the "scraggly old beard" he grew for the role, and grins.
"This," he declares, "is some of the greatest writing on television. How often can you offer somebody your pickle and actually have it mean the dill pickle that came with your deli sandwich?"
The return of Mark, the hard-to-resist hottie who broke up Addison and Derek's marriage, has added yet another twist to the soapy surgical show.
"It means Addison gets to have some sex, which is awesome!" says creator Shonda Rhimes. "It also allows her to confront her past, which will be interesting to watch. Mark, the original bad boy, is struggling with his own demons. He brings a healthy serving of mystery and potential conflict to Seattle Grace."
Not to mention a heaping helping of rumpled bedsheets. McSteamy has already done the McNasty with Callie Torres (Sara Ramirez) and seems intent on getting Meredith out of her scrubs.
"Very often people have sex with other people when the people they love aren't available," says executive producer Betsy Beers. "And as Eric has said about his character, he's a guy who doesn't like to sleep alone."
Hey, no one ever called it Grey's Monogamy.
It looks like Addison, the hospital's resident sultry OB/GYN, and Mark are the latest couple to be embroiled in a romantic cat-and-mouse chase.
"Addison is coming unraveled," Walsh says. "She started out so together. Now she's a cat without a whisker — a little off balance and leaving a mess all over the hospital. She's a little untethered now, which is really fun to play."
She's had McDreamy and McSteamy, so she's doing something right, no?
"She's always wearing Diane von Furstenberg wrap tops and pencil skirts and Louis Vuitton pumps, like she could either go to a cocktail party or perform a C-section. And, yes, I would think she's good in the sack," Walsh says. "She's got to have something to say for herself between the sheets."
Mark Sloan, however, leaves Addison wobbly.
"He's the guy you shouldn't go out with but you can't help yourself," Walsh said. "He flusters her. And that part was a little bit me — I would just get kind of giggly around Eric and I thought, 'Oh, what a great thing to incorporate for Addison,' in a nerdy way, like, 'Shut down! Danger, Will Robinson!'"
Though they banter and bicker on screen, Walsh, who is dating "someone in the industry who shall remain nameless, but you can call McAnonymous," and Dane, who's been married to actress Rebecca Gayheart (Vanished) for two years, get along famously.
"Kate's definitely one of the more boisterous actors around here," he says. "She's very 'How you doin'? Ready to roll? Let's make some magic.' She doesn't go out of her way to crack people up, but she's very witty. And, of course, she is extremely easy on the eyes."
The feeling is mutual.
"I'll tell you this: He knows how to talk to a lady," says Walsh of Dane. "I love him. He's fun, he's talented, he's handsome, he's taller than me [she's 5-foot-10], and he's sane...."
Steve Marsi is the Managing Editor of TV Fanatic. Follow him on Google+ or email him here.