Great Caption Contest responses this week, people. Not as many as we would have hoped for, but quality definitely wins out over quantity, as they say, and that was certainly true in this case.
The glass shard removed from a patient's heart by Burktina inspired many a funny caption from our readers. The temptation was to name the very first submission - by Bryan Adams, or at least someone using his name and tying in a reference to one of the Canadian rocker's hit songs - but it turned out that many warranted serious consideration.
Jules, Kimmy and curiousgeorge came close, as did many others who wrote in with their captions. Yet there can be only one winner, and there was little doubt among the Insider's staff members who that should be. luvthisshow, we luvyourcaption. Congratulations!
The winning response appears below. Scroll down to read the full list of captions. Thanks to all for participating and good luck this week!
Here's this week's Caption Contest image...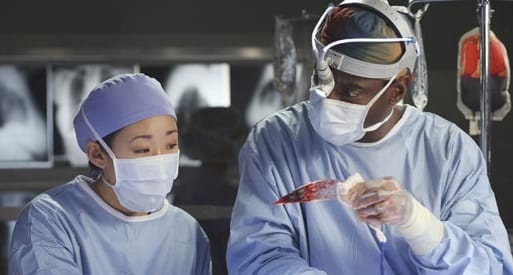 "Hmm... look what I just pulled out of my back. Wonder who put that there?"
Steve Marsi is the Managing Editor of TV Fanatic. Follow him on Google+ or email him here.