There weren't a lot of Seattle scenes in Thursday night's episode of Grey's Anatomy, reports our official Emerald City correspondent, whose blog you can visit here. But all the sweeping views of the city, the water, and the ferryboats you see are genuine Seattle images.
Here's what she writes about the (fleeting) glimpses of the city we were treated to last Thursday and in past weeks.
~~~~~~~~~~~~~~~~~~~~~~~
Very rarely do the doctors and interns venture out into the real Seattle.
Sure, they have lives to save and whatever, so they spend most of their time in the hospital. But every once in a while, we do get a real glimpse of the real city most of the characters are so in love with.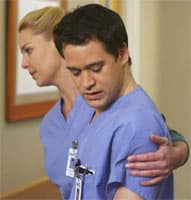 The setting for Meredith's house is actually Queen Anne Hill, a beautiful old neighborhood full of multi-million dollar homes about a mile from downtown.
In reality, this would be quite convenient for Izzie, George, and Meredith, since Seattle Grace Hospital is supposedly set at the base of the Space Needle, which is only a hop, skip, and a jump from Queen Anne.
But in some scenes, we see Meredith Grey drive to work on I-90 or Highway 99, both picturesque highways for filming purposes but neither of them needed for what her real-life commute would be.
However, if a curious fan ventured to the Space Needle in search of Seattle Grace, he or she would be disappointed to find the local ABC station there instead. The building looks strikingly familiar to the Seattle Grace we see on TV, featuring blue-tinted windows and even a courtyard.
The building's helipad was actually used for the helicopter scenes from last season when Burke and Alex flew to get the heart for Denny. A giant SGH was even painted on the helipad, which could be seen from the top of the Space Needle.
But back to last night's episode. We did get a glimpse of a mural of Pike Place Market, which popped up in the background when the Chief was waiting for the elevator in one scene.
The real Market, an eclectic mish mash of fruits, vegetables, crafts, and shops, hasn't yet been used for any Grey's Anatomy scenes. Neither has the real waterfront, although there's a rumor of a ferryboat incident coming up in a future episode that supposedly takes place there.
There's also a rumor of an upcoming wedding on Grey's Anatomy, which, based on last night's "Great Expectations," seems to be a real possibility.
If I were in charge of producing that episode (which I am, in my mind) I would set it on Alki Beach in the summer, with the whole Seattle cityscape in the background. Or maybe on the hill at Myrtle Edwards Park on the waterfront.
Or in my backyard. Because that would be pretty cool, too.
Steve Marsi is the Managing Editor of TV Fanatic. Follow him on Google+ or email him here.